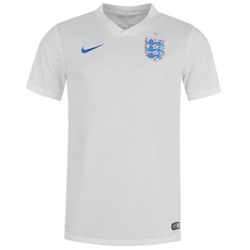 (PRWEB UK) 2 April 2014
Monday 31st March saw the launch of this years England shirt, which will be worn during the World Cup in Brazil over summer. You can now pre order your England kits from Sportsdirect.com and they will be available to buy from the 3rd April. England were one of the last teams to reveal their new kit with other countries such as Germany, Italy and Brazil themselves revealing their kits earlier this year. The World Cup kicks off on the 12th June with hosts Brazil competing against Croatia in the very first game. England's first game against Italy will take place on the 14th June.
This years shirt has been stripped back to basics and accompanies an all white kit and alternative red and white kit to be worn during the games in Brazil. The white shirt features a subtle pinstripe design along with satin strips along each shoulder. The shirt has an original cut off overlapping v neck collar along with the Nike swoosh logo and of course the 3 lions crest.
The inspiration behind the design appeared to resemble the 1970s kit worn by Sir Alf Ramsey's defending champions. In 1966, when England won the World Cup for the first and only time to date, the teams performance was not so entertaining and the players put their efforts into playing the game well, rather than putting on a show for the excited fans watching. This years shirt represents this attitude towards the game and focuses on the performance enhancing qualities the kit brings to players, rather than the aesthetic design to appeal to fans.
As the World Cup is being hosted in Brazil, the temperatures will be significantly higher than those players are used to back home. Whilst designing this years kit, Nike have utilised their current technologies to ensure the kit they provide for the England team will enable them to play in such heat and to maximise comfort throughout each game. With built in Nike Dri Fit technology the England kit has sweat wicking properties within the dual knit fabrication that helps pull moisture away from the body into a separate layer of material where it can evaporate. This will enable the player to stay cooler and dryer and therefore more comfortable, thus improving performance start to end.
When the shirt was revealed earlier this week there were mixed reactions from fans. Many were outraged at the price of the players shirt, with exact copies costing up to £90. Others were impressed by the design and features of the kit and with replica shirts costing a lot less than exact copies, fans can still get behind their team and #wearwithpride this World Cup.
Visit http://www.sportsdirect.com/englandpreorder for SportsDirect.com's range of England kits with the adults replica shirt only £47.99!
For all media enquiries please contact Emily.Matthews(at)SportsDirect(dot)com or 0870 333 9413