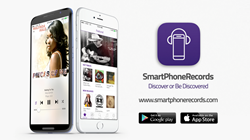 'SPR is about empowering artists and giving them independence like they've never had before.' - Damion Hollomon
San Francisco, California (PRWEB) June 06, 2016
Whether making music in a state-of-the-art studio, on a mobile phone or anywhere in between, SmartPhoneRecords (SPR) has it covered. With SPR, artists can upload and share their music worldwide directly from their smartphone, all for free.
Updates include:

Tip Button--earn tips from your fans
SPR Community-- find out who's on SPR
Social media sharing-- spread the word to friends and followers
New genres-- audiobooks, podcasts and more
By providing a more convenient and faster way to distribute music, this one-of-a-kind platform is transforming the way artists connect with their fans. While other music-streaming services require subscription fees and/or the use of a PC or third party distributor, with SmartPhoneRecords, all an artist needs is a smartphone. Additionally, listeners can discover new talent through a (free) music-streaming feature as well as have the option to leave their favorite artists a tip!
About SPR:
Available on the iPhone and Android
SmartPhoneRecords was founded by CEO Damion Hollomon and Reyna Carrasco. Damion is an indie rap artist, entrepreneur and author of "Shut Up and Startup: A Beginner's Guide to Business Without the Fluff".
Reyna is a former U.S. Marine and served in Operation Iraqi Freedom in 2003. She was nominated for an Appster award for "Most Inspiring Women in Technology 2015," and holds the position as COO of SmartPhoneRecords.
SPR launched in 2013 and quickly reached over 65 countries. Its purpose is to forever change the way the world distributes, sells and listens to music by bringing together artists, music lovers and technology.
Download the free app today! Online record store coming soon. For more information, log onto http://www.SmartPhoneRecords.com