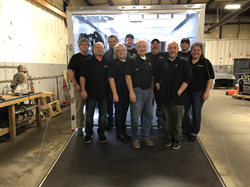 Our customers work hard and they choose to trust us with their business. This is just our way of saying 'thank you', said Debbie Davidson, Managing Partner, SprayWorks Equipment Group
CANTON, Ohio (PRWEB) March 17, 2020
SprayWorks Equipment Group is hosting its third annual Customer Appreciation Day on Tuesday, April 14, 2020 from 11:00 a.m. – 3:00 p.m. This event is open to SprayWorks' customers, as well as those interested in learning more about the spray foam and coatings industries. It will take place at SprayWorks' office located at 945 McKinley Ave SW, Canton, Ohio 44707.
Activities included in the event;

Food & drinks
Prizes & giveaways
Equipment discounts
Equipment demos and hands-on application
Meet the staff and Q&A
Meet the manufacturers
Those interested in attending Customer Appreciation Day can RSVP at https://sprayworksequipment.com/rsvp
About SprayWorks Equipment Group
SprayWorks Equipment Group is a spray foam and polyurea company; supplying equipment, training, material, mobile rigs, and parts – and a distributor for PMC, Graco, and Gusmer equipment. With nearly 100 years of combined experience, SprayWorks has knowledge in commercial and residential buildings, bridges, and infrastructure. SprayWorks provides training and education for new contractors and equipment operators; open cell, closed cell, polyurea & coating applications for interior & exterior building envelope design, waterproofing, below grade, bridge deck, barge, secondary containment all types of roofs and structures. For more information, visit Store.SprayWorksEquipment.com or YouTube. Call 330-587-4141.