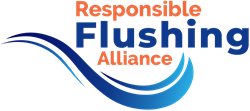 "Follow smart flushing habits to conserve water throughout the year, including not treating your toilet like a trash can," said the Responsible Flushing Alliance President, Lara Wyss
SEATTLE (PRWEB) April 29, 2021
The 51st Earth Month is coming to a close and the Responsible Flushing Alliance, a nonprofit dedicated to educating and empowering consumers to make informed choices about the proper disposal of products used in a bathroom setting, offers four tips for conserving water at home.
"The average U.S. household uses about 24% of its overall water consumption, the largest segment, flushing the toilet," said Lara Wyss, President of the Responsible Flushing Alliance. "That is a lot of water when you think about how often we flush our toilets in a single day (typically 5-8 times). It is important we flush responsibly to prevent wasting the clean, safe water that flows through our homes."
The Responsible Flushing Alliance is working to ensure responsible labeling of non-flushable products by supporting the "Do Not Flush" symbol, and to change consumer habits to decrease damage to our nation's sewage systems.
Below are recommended #FlushSmart habits to help conserve our global water supply. Here are four top tips:
1. Learn what should and should not be flushed. Only items that were designed to be flushed should be put in the toilet. These items were made of materials that are meant to break down as they travel through the water in plumbing pipes to wastewater treatment centers. By only flushing items meant to be flushed, we are reducing the number of times we flush the toilet overall, thus conserving gallons of water each time.
2. Throw what should not be flushed in a trash can or wastebasket. It can seem convenient to flush your trash down the toilet, but this actually wastes water and creates an opportunity for clogs to form and wreak havoc on your home plumbing system. Throw non-flushable items in a waste or garbage container. The best way to avoid throwing non-flushables in the toilet is to keep a wastebasket or trash container in the bathroom to dispose of those items when you are finished with them, preferably near your toilet (so you're not tempted).
3. Look for the "Do Not Flush" symbol when shopping. While you're out shopping for your personal hygiene and household cleaning products, be sure to check the label for the "Do Not Flush" symbol, which signifies that an item should NOT be flushed down the toilet but disposed of in a trash can or wastebasket. This will also go a long way in helping reduce the number of times the toilet in your home is flushed.
4. Avoid over-filling the toilet with any products. We've all experienced a small toilet clog or a toilet that wouldn't flush its entire contents down completely. Over-stuffing a toilet also wastes water because we typically attempt to keep trying to flush it until everything goes down once and for all, filling the bowl with more and more water. Once it all finally goes down, you've used 3x times of what you would have had it not been overfilled.
Adopting these tips into daily routines helps prevent clogs and protects the overall health of your home. It also helps conserve our clean and safe water supplies across the world.
For more information about responsible flushing behavior and how smart flushing habits can help us conserve water, visit https://flushsmart.org/.
About Responsible Flushing Alliance
The Responsible Flushing Alliance (RFA) is a 501(c)(6) non-profit organization dedicated to consumer education focused on what should and should not be flushed. We are a coalition of trade associations, wipes manufacturing companies, and non-profits committed to educating consumers about responsible, smart flushing habits. RFA's goal is to change consumer behavior to reduce damage to our nation's sewage systems caused by objects and materials not designed to be flushed.
Responsible Flushing Alliance Coalition Members
Albaad, Center for Baby and Adult Hygiene Products, Essity, First Quality, Georgia Pacific, Johnson & Johnson, Jacob Holm, Kelheim Fibres, Kimberly-Clark Corporation, Nehemiah Manufacturing, Nice-Pak, Procter & Gamble, Rockline Industries, Sellars Nonwovens, and Suominen Corporation.