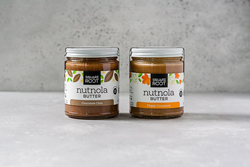 For too long, the experience of people with food allergies has been one of deprivation and giving up foods they love. That's unacceptable. People with food allergies shouldn't have to compromise. They deserve delicious options that meet their dietary needs. -Ellie O'Brien, Square Root Co-Founder
CHICAGO (PRWEB) September 20, 2021
Square Root announced today the expansion of its product line with the release of its new Nutnola Butter. The latest addition to the Square Root family of products is another delicious and healthy option for people who require gluten-free nut butter alternatives but don't want to settle for the usual sugar-packed chocolate hazelnut spread options. Nutnola Butter comes in two flavors: Maple Cinnamon and Chocolate Chia.
Made from several types of nuts and seeds, including cashews, pecans, walnuts, almonds, sunflower seeds, coconut and chia seeds, Nutnola Butter provides an array of healthy fats, proteins and flavors for a wholesome, satisfying texture. Nutnola Butter can be enjoyed on toast, fruit, smoothies, yogurt and even as an ice cream topping.
Both Nutnola Butter flavors are gluten-free as well as grain-free, paleo, dairy-free, vegan, refined sugar-free and non-GMO. Like all of Square Root's products, Nutnola Butter is made from real food in its most basic form, and it's delicious enough to enjoy even if you're not following a special gluten-free, keto or paleo diet.
Nutnola Butter, which retails for $9.99 per 8-ounce jar, can currently be found throughout Whole Foods in Illinois and select retailers throughout the Midwest, as well as through the Square Root website: https://squarerootlife.com/collections/nutnola-butter
"There's nothing on the market like this for people with gluten intolerance," says Square Root Co-Founder Ellie O'Brien, who lives with celiac disease. "We created Square Root's new Nutnola Butters to offer unique, rich flavors using simple ingredients including only nuts, seeds and spices. In other words, real food you can feel good about putting in your body — and feel great about sharing with friends and family. Sustainability is also a core value for us, which is why we focus on no-waste manufacturing and using 100 percent of the food in the manufacturing process as well as product packaging in recyclable glass jars."
The idea behind Square Root's products is to make delicious products made from real food, in its most basic form, to give people with gluten intolerance a product they'd love to share with anyone. While all the products taste great off the spoon or out of the bag, there are countless ways to enjoy Square Root products.
For more information about co-founders and husband-wife team Ellie and Pat O'Brien, please see this profile, "Expert Series: How people can navigate food sensitivities in the 'new normal," recently featured in the LA Times, Chicago Tribune, Houston Chronicle, and dozens of other major U.S. news outlets.
About Square Root
Founded by Ellie and Pat O'Brien in 2017, Square Root Life began as Hungry by Nature, a gluten-free, paleo-friendly food recipe blog based in Chicago. What started as a place for Ellie to share fan-favorite recipes quickly evolved into a source for health-conscious food lovers who crave delicious, grain-free granola. In 2017, Hungry by Nature launched a line of granola—known as Nutnola—exclusively available on the blog. Hand-crafted in Chicago by the couple, each bag was made with diet restricted food-lovers in mind. In 2019, Hungry by Nature added additional flavors and also began partnering with Whole Foods. By 2020, the company's Nutnola was available in all Illinois Whole Foods locations and online via their website. The Square Root brand celebrates the importance of not just good-for-you food, but good tasting food, too! Through a careful selection of ingredients, and combining them in just the right way, Square Root Nutnola and Nutnola Butters are exactly what you need, and nothing you don't. They're delicious, good for you, and they fit with any diet. #EatSquareRoot #SnackingSolved Facebook Instagram Twitter