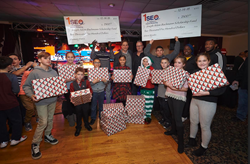 BRISTOL, Penn. (PRWEB) January 09, 2019
As a family-owned and operated marketing firm in Bucks County, 1SEO I.T. Support & Digital Marketing has always made it a priority to connect with and give back to the communities in and around Philadelphia. During the 2018 holiday season, the company and its clients teamed up with both the YWCA Bucks County and Beat the Streets Philadelphia to spread winter cheer and show their support for these local organizations.
Every winter, the YWCA Bucks County collects toys for underprivileged children in the area. This year, in support of the cause, the leadership team at 1SEO I.T. Support & Digital Marketing reached out to staff, clients, friends, and family for help making a meaningful donation to the program. The call was met with dozens of wonderful donations of toys for children of all ages, which were collected at the company's holiday party and delivered the next day to the children at the YWCA Bucks County.
In addition to their generous toy donation, 1SEO I.T. Support & Digital Marketing also showed support for Beat the Streets Philadelphia — a local organization that aims to make a positive impact in the lives of young, underprivileged student-athletes through supportive wrestling programs, mentoring, and academic tutoring. The local marketing agency made a donation of twenty laptops to the organization at the annual holiday party and awarded two of the program's young members each with a $2500 scholarship.
As Lance Bachmann, President of 1SEO I.T. Support & Digital Marketing, explained, "At 1SEO, we're all about giving back in any way we can. Our team is full of local, Philadelphia-area talent, so whenever an opportunity comes up where we can make a positive impact in the community, we try to make it happen."
Local business owners in need of digital marketing or I.T. services can visit https://1seo.com to learn more about the agency and how it helps to grow and protect a broad range of businesses and organizations in Philadelphia and across the country.
About 1SEO I.T. Support & Digital Marketing:
1SEO I.T. Support & Digital Marketing is a Philadelphia, PA-based digital marketing firm and managed IT service provider offering end-to-end solutions for their clientele, which is comprised of hundreds of businesses in countless industries that operate in several sectors, from the niche to the mainstream. With a full range of services, including social media optimization, content marketing, search engine optimization (SEO), web development, pay-per-click (PPC), proactive IT support, and managed IT services, 1SEO helps their clients win online and maximizes the efficiency and security of their IT infrastructure.
For more information, please visit https://1seo.com/.