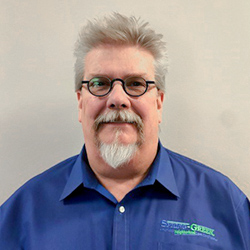 PLAINFIELD, Ill. (PRWEB) December 18, 2019
With over 30 years of marketing experience in both large and mid-sized advertising agencies as well as corporations, Steve Duffner is well versed in all aspects of multi-channel marketing, building and leading cross functional teams and developing sustainable brand strategies for growing emerging consumer brands. Steve will be instrumental in helping Spring-Green Enterprises further support its expanding national portfolio of franchised and company owned brands.
With Steve's knowledge of marketing operations, brand strategy and leadership, he will be instrumental in further developing our internal marketing services agency. Serving as the Vice President of Marketing, Steve will be a senior leader responsible for helping define the brand strategy and leading the overall marketing execution. Duffner said, "I am looking forward to playing a key role in developing the marketing road map that will produce industry leading results for franchise owners and further position the SGE brand as an industry leader."
Spring-Green Enterprises recognized its need for a Vice President of Marketing who could focus on optimizing the overall marketing strategy for each brand as well as overseeing the successful execution of all existing marketing programs for the franchise organization. Ted Hofer, CEO said "This is a new position and part of our overall strategic plan as we expand our brand portfolio and company owned branches. I am excited to add Steve to our organization and leverage his experience as we move the organization forward."
"With Steve's extensive agency background and experience in leading strategy with consumer facing brands, he will be integral in building & optimizing our internal agency and helping us navigate the road ahead," said Hofer. "His background at Leo Burnett in Chicago, Discover Financial Services, as well as several other agencies and corporations in the U.S. brings us a fresh and welcomed perspective to our growing organization."
Duffner's previous brand marketing work includes, Discover Card, BP, United Airlines, U.S. Army, Coca-Cola, McDonald's, Whole Foods, Microsoft, Johnson & Johnson, Chicago White Sox, Nissan, Porsche, Chevrolet, Marlboro Racing, Midas, Valvoline, Firestone, Staples, Four Winds Casino, Blue Chip Casino, Wrangler Jeans, Navy Pier, Brookfield Zoo, Ditka's Restaurants, Parkways Foundation, Paper-mate, the Chicago Bears and many more.
About Spring-Green Enterprises
Spring-Green Enterprises (SGE) is the parent company to the Spring-Green Lawn Care and Pet Butler franchise brands as well as its company-owned locations. SGE operates an affiliate company that provides marketing and technology services; which includes a national call center and a full suite of marketing services. Spring-Green Lawn Care has been delivering traditional and organic lawn and tree care services to residential and commercial properties through a network of locally owned and operated franchises since 1977. Pet Butler was established and created in 1988 to make life for pet owners more convenient, enjoyable, and safe. It operates through a network of franchise owners and currently provides pet waste removal and related services.
Both brands are an attractive opportunity for entrepreneurs and existing business owners who want to align themselves with a business model that has proven economic resilience, healthy profit margins, industry leading business and marketing intelligence, recurring revenue, and retirement and succession planning. For more information, visit http://www.springgreenfranchise.com or http://www.petbutlerfranchise.com