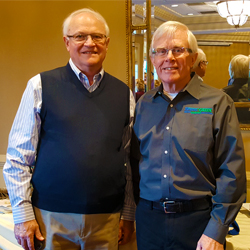 PLAINFIELD, Ill. (PRWEB) January 16, 2019
Barry Matthews, of Spring-Green Lawn Care, retired at the end of 2018. Barry served in numerous leadership positions during his 38 years with company, including Chief Operating Officer. His efforts helped build Spring-Green Lawn Care into a national lawn care brand.
Matthews joined Spring-Green in February of 1981 as an assistant manager at the company-owned franchise. Within a year he had moved over to the corporate side of the business as a support representative, and by the late 80's he was appointed to lead the franchise operations department.
Matthews was tasked with upholding the standards of the franchise system and was responsible for Spring-Green Lawn Care's legal and compliance while in the role of Chief Operating Officer. Matthews effort and commitment to the organization never wavered. His work ethic was second to none and combined with his ability as a leader Matthews helped position Spring-Green Lawn Care for the ongoing success it has experienced in the 2000's.
Matthews mentored many people throughout his years at Spring-Green and kept his focus on building successful Spring-Green franchises. There was no one on the support center staff who was more committed to achieving the vision of Spring-Green's Franchise Support Mission Statement: "We provide and help implement a profitable success system that enables franchise owners to achieve their goals and dreams!"
On Tuesday, December 18th the Spring-Green organization and 3 generations of the Matthews family gathered together to celebrate and recognize his contributions to Spring-Green's success and longevity. Tom Hofer, Chairman, shared stories of Spring-Green's past including some challenging times for the company that Matthews helped lead the franchise system through. He was a critical part of the leadership team that saw Spring-Green through its first four decades. Matthews was known for his steadfast approach and his ability to rise above the adversity staying focused on the road ahead helped set the organization on the path it celebrates today.
Ted Hofer, Chief Executive Officer, said, "Barry has been the quintessential Spring-Green team member. For much of his time with Spring-Green he dealt with ongoing health issues but his effort and commitment has never wavered. His 38 years with the company have been the very definition of perseverance, one of Spring-Green's core values."
In recognition of Matthews' contributions to the organization, Spring-Green will award the Barry F. Matthews Core Values Award for Perseverance to Spring-Green franchises who have persevered through times of adversity.
About Spring-Green Lawn Care
Founded in 1977, Plainfield, Illinois-based Spring-Green Lawn Care has been delivering lawn and tree care services nationwide for over 40 years. Its service is centered on the beautification of residential and commercial customers. Spring-Green is an attractive opportunity for entrepreneurs in the green industry who want to align themselves with a business model that has proven economic resilience, healthy profit margins, industry leading business and marketing intelligence, recurring revenue, and retirement and succession planning. For more information, visit http://www.springgreenfranchise.com.