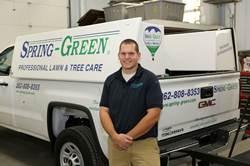 "The support system, the people, and the marketing are what sold me on Spring-Green," Valestin said.
PLAINFIELD, Ill. (PRWEB) September 25, 2020
According to a recent segment on CBS This Morning, the perfect lawn has been sought after since the 1950s, when it was a sign of prosperity to own a home with your own little "patch of heaven", a lawn. This fact may help to explain why Spring-Green Lawn Care was named to the Forbes List of Top 10 Franchises to Buy in 2019 as well as Lawn and Landscape Magazine's 2020's Top 100 Largest Companies in the industry. Spring-Green Enterprises, their parent company, is long known for its marketing and back office support teams.
Founded in 1977, Plainfield, Illinois-based Spring-Green Lawn Care has been delivering lawn and tree care services nationwide for over 43 years. Its service is centered on the beautification of residential and commercial customers in middle-class and affluent neighborhoods and communities. Spring-Green is an attractive opportunity for entrepreneurs and existing green industry business owners who want to align themselves with a franchise opportunity that has proven economic resilience, healthy profit margins, industry leading business and marketing intelligence, recurring revenue and retirement and family planning through business ownership. Spring-Green currently has 81 franchises operating in 26 states.
Michael Valestin, one of the system's most successful franchisees, will be the first to tell you he was never one for office work. He was always much more interested in building things and in the construction process. "I liked watching a project evolve from nothing to something," said the 36-year-old owner of a prosperous franchise in the Milwaukee area. In high school and through college I worked with my neighbor doing large scale residential and commercial installation projects."
At age 25, Michael Valestin invested his savings and started a landscape/snow removal business. It was right up his alley and he saw results and more importantly, learned how to run a small business of his own, which had been his dream. Then in 2014, after growing his business for ten years, he began looking into franchise systems to keep himself and his business up-to-date with back office and marketing support.
"I've owned my own landscaping company for quite some time," said Valestin. "We had done a little fertilizing and maintenance and that's the side of the business, the residential, that I wanted to grow and be more profitable. I can build a patio and it's one and done. The best you can hope for is a referral at the end. The great advantage of lawn care is the recurring revenue. " That realization kicked-off Valestin's search for a business model that was a good fit for his long-term goals. He did his due diligence and chose Spring-Green Lawn Care. Not only did they provide all the support he was looking for, but their terrific and well proven successful services, such as lawn fertilization and mosquito control.
"The support system, the people, and the marketing are what sold me on Spring-Green," Valestin said.
Deemed as an essential business, he was able to continue working during these challenging times. The pandemic did not slow down business and he has already met his sales goals for 2020.
Valestin's decision to expand his business with a Spring-Green franchise has turned out to be the right one, as he has found a deep well of expertise and resources. Spring-Green's highly skilled team has been an invaluable mechanism to grow his business. "If I have a question, I call my Business Consultant or the Director of Education at the support center and someone always answers. Whether I needed answers about grass or a species of weed or even have a question about a business decision, Spring-Green has always been there for me."
Plainfield, Illinois-based Spring-Green Lawn Care has been delivering lawn and tree care services nationwide since 1977. Its service is centered on the beautification of residential and commercial customers in middle-class and affluent neighborhoods and communities. Spring-Green is an attractive opportunity for entrepreneurs and existing green industry business owners who want to align themselves with a franchise opportunity that has proven economic resilience, healthy profit margins, industry leading business and marketing intelligence, recurring revenue, and retirement and family planning through business ownership. For more information, visit https://www.spring-green.com/