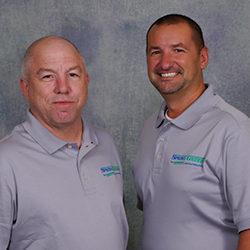 PLAINFIELD, Ill. (PRWEB) November 23, 2019
Spring-Green Lawn Care, provider of residential and commercial lawn fertilization and weed control is proud to announce its newest franchise owners, Tim Hargis and Mike Faulkner, servicing Cedar Rapids, Iowa and surrounding cities.
Hargis and Faulkner are currently employed at Duane Arnold Energy Center in IA. Because the power plant will soon be decommissioned, they began looking for their next business endeavor. When researching opportunities, a Spring-Green ad appeared for a current business that was for sale and they became interested and wanted to learn more.
Hargis and Faulkner believe that Spring-Green will give them the stability and support they've been seeking. "Lawns are not going to go away during a recession. People are still going to maintain their lawns," said Hargis. Hargis and Faulkner knew exactly what they wanted when they were looking for their next business adventure. "Stability, growth opportunities, and being our own boss were at the top of our list. We found Spring-Green by accident, but we liked what we saw," said Hargis. "The ad drew us in and after talking with Spring-Green, we decided that we were in. We enjoyed the people, their professionalism, and their passion for our success." The day to day Spring-Green operations will be managed by Tim's wife, Marie Hargis. Marie will be the face of Spring-Green while Tim and Mike work through the closure of the power plant. "I'm excited to jump in and learn all that there is to know about lawn care," said Hargis.
"We are excited to begin our next chapter with Spring-Green Lawn Care as franchise owners," said Faulkner. "We are locally owned and operated and we are looking forward to taking care of our customers," said Hargis. "We are excited to have them take over this established territory. We look forward to Tim & Marie Hargis and Mike & Ashley Faulkner achieving their goals and dreams by joining Spring-Green," said James Young, President of Spring-Green Lawn Care.
About Spring-Green Lawn Care
Plainfield, Illinois-based Spring-Green Lawn Care has been delivering lawn and tree care services nationwide since 1977. Its service is centered on the beautification of residential and commercial customers in middle-class and affluent neighborhoods and communities. Spring-Green is an attractive opportunity for entrepreneurs and existing green industry business owners who want to align themselves with a franchise opportunity that has proven economic resilience, healthy profit margins, industry leading business and marketing intelligence, recurring revenue, and retirement and family planning through business ownership. For more information, visit http://www.springgreenfranchise.com.