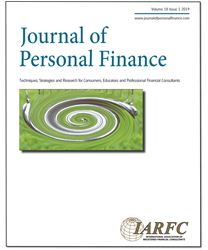 My hope is that we can enhance the exposure of the research we publish, thus meeting our mission to support financial literacy... Dr. Benjamin Cummings, JPF Editor.
MIDDLETOWN, Ohio (PRWEB) February 28, 2019
The publications' Editorial Board is headed by Dr. Benjamin F. Cummings, CFP®, RFC® who is an Associate Professor of Behavioral Finance at the American College of Financial Services. He has completed award-winning research on the use and value of financial advice and has been quoted in the media, including in MarketWatch and USA Today. His primary responsibilities include teaching behavioral finance in the Financial and Retirement Planning Ph.D. program and advising doctoral candidates on dissertation research. His research focuses on making retirement, charitable, tax and investment decision.
"For our Spring issue of 2019, I'm pleased about the articles we received from our contributing authors. This issue includes some great insights for the planning profession," comments the JPF editor Dr. Cummings. "For future issues, I'm actively working to expand the reach of the Journal of Personal Financel so that it can be read by a broader academic audience. My hope is that we can enhance the exposure of the research we publish, thus meeting our mission to support financial literacy."
The following six articles are included the 2019 edition, Volume 18, Issue 1:

Financial Planning Client Interaction Theory (FPCIT)
A Mechanistic Model of Personal Finance
"As Soon As…" Finances: A Study of Financial Decision Making
Credit Card Use of College Students: A Broad Review
Using Donor Images in Marketing Complex Charitable Financial Planning Instruments: An Experimental Test with Charitable Gift Annuities
Issues with the Transition Mechanism in the Actuarial Approach to Retirement Spending
"We continue to see the positive outcome of publishing this Academic Journal for the membership of the IARFC," comments IARFC Chair and CEO H. Stephen Bailey, MRFC. "I encourage all of our members to digest the research presented in this publication and utilize it for the benefit of their clients."
Initiated in 2002, the Journal of Personal Finance has grown in scope, acceptance and recognition among practitioners and academicians. The JPF welcomes articles from practicing financial professionals and consultants about financial products and services, client relationships, retirement planning, long-term care, practice management, and firm operational efficiencies.
For members of the IARFC, the JPF is a benefit and a source of continuing education credits. Members can take the IARFC Journal of Personal Finance Online CE quizzes. Two hours of IARFC CE will be awarded to members who achieves a score of 70% or higher per quiz.
To order a hard copy or electronic version of the Journal of Personal Finance, to find out more information or to review article submission guidelines, go to http://www.journalofpersonalfinance.com or contact the editor. Register to take the CE quiz at the IARFC Store.