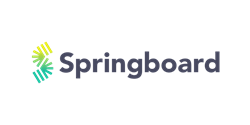 This selfless act by our mentors shows the power of a Springboard community that is truly committed to the mission of transforming a million lives.
SAN FRANCISCO (PRWEB) April 30, 2020
Springboard, the online learning platform that bridges the skills gap, announced today a COVID-19 relief scholarship fund that will award up to $500,000 to prospective students whose lives have been directly impacted by the coronavirus pandemic. This relief scholarship is in addition to the $1.2 million already awarded and is now available to current students and prospective students applying to the next cohort starting on May 26.
Springboard's remote career-track offering matches every student with a dedicated mentor working in fields such as software engineering, data science or UX/UI design. Even with fewer than 10% of mentor applicants being accepted to the Springboard program, the mentor community represents over 50 countries and come from companies such as Facebook, Google, LinkedIn, and Amazon. These mentors help keep students motivated to achieve their goals and on track to complete the course requirements. Due to the sheer impact of the pandemic, Springboard mentors are waiving their honorariums to make these scholarships possible. Springboard is matching the donations by 2x, up to $500,000.
"Now with millions of people who are out of work and needing to upskill, our mission matters more than ever," said Gautam Tambay, Springboard's CEO & Co-Founder. "This selfless act by our mentors shows the power of a Springboard community that is truly committed to the mission of transforming a million lives."
Springboard's mentors are a lifeline for students to the "real world," and help them to stay focused during the courses. Mentors also work with students on projects that can serve as portfolio pieces.
"We were overwhelmed by the number of mentors who donated a percentage of their honorarium to support students impacted by COVID-19," said Eva-Marie Costello, Springboard Chief of Staff. "This highlights how Springboard's mentor community believes in and supports our mission to transform lives."
Springboard offers students a support network of mentors, career coaches, advisors, and alumni, who all work together for successful outcomes.
"I joined Springboard about four years ago, because I wanted to help people transition into the Data Science field and have an easier journey then I did," said Srdjan Santic, Principal Data Scientist at Logikka and Springboard mentor. "Mentoring here has been the most rewarding and fulfilling experience of my career. When Springboard decided to offer the COVID-19 scholarship, it only felt natural that I would contribute to the effort, which will bring even more people into this wonderful profession."
To qualify for relief scholarships, students must show proof of need by providing one of the following, as a result of COVID-19: a copy of unemployment benefit claim, proof you have been laid-off, material showing recent default on debt due (e.g. loans, mortgages), or other evidence that you have been financially impacted by the pandemic.
More details on how to apply: https://www.springboard.com/blog/covid-19-initiatives/. In addition, Springboard will be offering two of their most popular prep-courses, Data Science Career Track Prep and Software Engineering Career Track Prep, for free to anyone interested in making a career shift during this time. For more information, and to register, visit https://www.springboard.com/blog/covid-19-initiatives/.
About Springboard
Springboard is on a mission to positively impact one million lives by 2030. More than 20,000 students across 100+ countries have used Springboard to advance their careers. Springboard believes that each student is unique, and needs a learning experience designed to fit their life's pace, supported by advisors and mentors. We offer an education that prepares students for the real world. Graduates have landed jobs with employers like Microsoft, Facebook, and Boeing. Springboard has also trained corporate teams at the likes of Visa, Gusto and The North Face. The San Francisco-based company is backed by leading venture capital firms, including Reach Capital, Pearson Ventures, International Finance Corp., Costanoa Ventures, Learn Capital, and Blue Fog Capital.