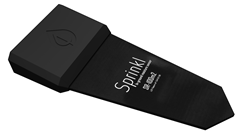 Sprinkl Sense is the only soil moisture sensor available that not only provides multi-depth soil moisture and temperature readings but also automatically adjusts each schedule down to the zone level. This delivers unprecedented water savings without any human intervention.
DALLAS (PRWEB) October 10, 2019
Today Sprinkl officially launches Sense, which is a wireless in-ground soil moisture, and the first of Sprinkl's SmartYard accessories. Sprinkl is a technology company based in Dallas, TX, which brings the latest in home automation technology to the yard. This approach delivers significant water savings to both home and business owners alike without them lifting a finger. Sense is currently available for purchase on sprinkl.com, and has the following benefits which sets it apart from any other sensors available in the market.

Easy to install– Sense only takes two minutes to install. Using the Sprinkl Control app, you just click "+" to add a sensor through the app, wake it up by tapping it on Control's magnetic enclosure, and then bury it flush with the ground.
Multi-Level Measurements– In addition to recording the 1 inch soil temperature, Sense also takes soil moisture readings at 1, 3, and 5 inch levels. This allows Sprinkl to detect rain and watering events at the 1 inch level , evaluate the drainage rate of the soil, and focus on maintaining soil moisture at the root level where plants need it the most. All measurements are communicated back to Control multiple times an hour.
Zone Level Control– Flexible to each yard's needs, a single Sense can be set to control the entire yard, or a just a individual zone. This means that Sprinkl will automatically tailor each schedule based on the actual water needed by each zone.
Fully Buried– To ensure that Sense stays out of the way of your mower and weedeater, it is fully buried and flush with the ground. This allows you to comfortably take care of your yardwork without worrying about destroying the sensors.
Long Battery Life– Sense has a six year battery life which means that you can plant and forget them.
Broad Coverage– With a range of approximately 175 ft from Sprinkl Control (depending on obstructions), Sense easily covers most .5 acre lots, and can be strategically placed within zones to cover larger lot sizes.
In addition to a feature set which far exceeds other soil moisture sensors in the market, Sense is also a fraction of the price. Sense is available for purchase at https://sprinkl.com for $45 per Sense, and requires Sprinkl's 16 zone smart controller Control which is also available on Sprinkl's website or on Amazon.