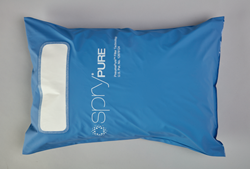 Spry's goal has always been to protect patients and caregivers with our breathable barrier solution, and we look forward to bringing soft-surface cleanliness to the forefront of prevention.
WHITE PLAINS, N.Y. (PRWEB) December 08, 2020
Spry Therapeutics and Healthcare Surfaces Institute today announced they have entered into a strategic partnership, combining the organization's clinical expertise and resources with Spry's deep knowledge in soft-surface contamination – particularly as it pertains to pillows and mattresses. With surfaces playing an increasingly critical role in the fight against healthcare acquired infections (HAIs), both parties recognize the importance of including soft-surface contamination in the discussion around prevention.
Soft surfaces – such as pillows and mattresses – can facilitate the transfer of disease within hospitals, with deadly infections spreading from patient to patient. In fact, ECRI Institute listed soft surfaces second on their list of Top Health Technology Hazards, stating: "Blood and other body fluids that remain on, or within, mattresses or mattress covers after cleaning can contact subsequent patients, posing an infection risk."
Spry Therapeutics is committed to helping healthcare facilities eliminate soft surfaces as vectors for contamination by providing the world's first and only soft-surface filter technology: Pneumapure. The company's patented filter technology is proven effective in blocking even the smallest "superbugs" – down to .02 micron – from entering or exiting any soft surface to which it's applied, helping to prevent the transmission of deadly diseases among patients and caregivers. Pneumapure also reduces costs associated with HAIs from environmental impact to disposal costs, annual purchase expenditures and more.
The company's partnership with Healthcare Surfaces Institute is based on the fundamental understanding that many HAIs are preventable when the problem is understood and proper guidelines, testing and infection prevention protocol are implemented. The Institute is a collaboration of key decision makers in healthcare, manufacturing, academia, professional organizations, standards-setting organizations, regulatory agencies and other nonprofit entities. Each of these specialists is focused on scientific research and creating measures, metrics, and guidelines, as well as outreach and educational programs to reduce preventable infections by interrupting transmission of microbes via surfaces.
"We are thrilled to be partnering with Healthcare Surfaces Institute in their mission to reduce the spread of infection through surfaces," says Bill Purdy, CEO and Co-Founder of Spry Therapeutics. "From inception, Spry's goal has always been to protect patients and caregivers with our breathable barrier solution, and we look forward to bringing soft-surface cleanliness to the forefront of prevention."
"We are really looking forward to including Bill and his team in our certification initiative work," says Linda Lybert, Founder and Executive Director of Healthcare Surfaces Institute. "He brings incredible expertise around the issues facilities face with soft surfaces, specifically pillows and mattresses. Patients are constantly in direct contact with these surfaces, and we need to make sure they can be effectively cleaned and disinfected. Bill will also become a resource to our Scientific Advisory Board and will participate in development of research and guidelines with others in the field."
To learn more about Spry Therapeutics and its fight against HAIs with its virus-blocking filter technology, visit sprytx.com.
About Spry Therapeutics
Spry Therapeutics is a health and wellness technology company that uses a proprietary soft-surface filter technology to block all pathogens from entering or exiting any soft surface to which it's applied. The Company's Pneumapure® filter is designed to help prevent cross-contamination among patients and caregivers, and provide a clean sleep solution to businesses and consumers alike. Spry Therapeutics is headquartered in White Plains, NY. For more information, visit sprytx.com. Follow Spry Therapeutics on LinkedIn.
About Healthcare Surfaces Institute
The Healthcare Surfaces Institute is a cutting-edge collaboration of thought leaders who work together to evaluate and understand all aspects of the role surfaces play in transmitting pathogens that cause infection and illness in healthcare settings.
Finding solutions to the spread of infections via surfaces requires an understanding of all contributing factors. This can only be done by bringing together experts that have high levels of understanding and expertise in many different areas – often with very different perspectives and opinions about how the issue must be addressed.
Our mission is to reduce preventable infections through collaboration of industry, academia, science, regulatory, and service sectors by interrupting the transmission of surface-related pathogens in healthcare in support of community and public health.