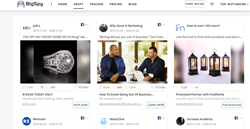 Special Ad Spy Tool - BigSpy
HONG KONG (PRWEB) January 13, 2020
The Background Of BigSpy: An Ad Spy Tool Is Born
Crafting ads that increase sales is a challenging task for many marketing teams, but that could change very fast thanks to a new tool.
BigSpy is a tool that has quickly risen to prominence in the ad spying market. With a vast ad inventory and a freemium pricing model, BigSpy offers ad spying capabilities to more businesses than ever before.
BigSpy's founders started working on the product after being frustrated with the difficulty of collecting competitors' ads for their own campaigns. Another motivator was the lack of data they encountered when evaluating other ad spying tools.
Now, this ad spying platform brings together more than 1 billion ads on a variety of networks so you can quickly improve your own advertising. BigSpy has been recommended and used by many marketers, including influencers like Neil Patel.
Features And Pricing
The core use case involves discovering creatives from ads in your industry and seeing what ads your competitors are running.
Over 40 countries are supported for filtering the location where ads were run. In addition, these ad platforms are available:

Facebook
Instagram
AdMob
Twitter
Pinterest
Yahoo
There are three pricing tiers for BigSpy. In line with the app developers' plan to make ad tracking available to even those marketers on small budgets, a free plan is available. This plan covers ad tracking for Facebook. The first paid plan, "Basic," costs $9/month and expands your ad tracking to not just Facebook but Instagram as well. In addition, you get more daily searches and other features.
For power users, the "Pro" plan, costing $99/month, provides unlimited querying and access to ads across all tracked platforms.
Advantages Of BigSpy
The biggest advantage of BigSpy, in comparison to other ad spy tools, is that it restores the original appearance of native ads. As a user, you can intuitively see the advantages and disadvantages of ads, including all relevant elements, such as:

Copy
External links
Calls to action
Video
Images
Another important advantage is that BigSpy's database covers all industries and has a huge inventory of ads to choose from. This ensures that BigSpy meets the requirements of high demand users who want plenty of data for their campaigns.
Who Should Use BigSpy
Some of the user types for whom this tool is a fit include:

Ecommerce marketers
Media buyers
Ad designers
Ad agencies
User acquisition teams
Digital marketers
Growth hackers
Getting Started With BigSpy
If you currently run ads for a business across online platforms like Facebook, Instagram, Twitter, or Pinterest, then you should try BigSpy. BigSpy will improve the effectiveness of your ads, leading to higher conversions and lower advertising costs.
Getting started with BigSpy is a breeze. All you have to do is signup with your email for a free account. Learning to use BigSpy is very easy, and even newbies can quickly start improving their ad campaigns.