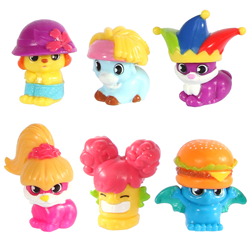 Season 2 includes over 100+ new characters and 'Dos for kids to collect.
Plymouth, MN (PRWEB) December 17, 2016
The adorable mini collectible world of Squinkies has expanded to include over 100+ new characters and 'Dos for kids to collect in Season 2. Each figure, unique with its own name and personality, belongs to a special area within the world of Squinkieville. The expansion includes common, rare and ultra rare mash-up characters and introduces three new lands within Squinkieville.
Wings are required to explore Cloud City's dreamy hideout in the sky. The Squinkies living here flutter around from cloud to cloud. Candy Mountain is the sweetest part of Squinkieville, where sugary critters that look like desserts live among the caramel hills and peppermint cottages. For a more beachy vibe, Tropical Island is located off the shores of Squinkie Sea, perfect for Squinkieville vacations.
"Providing newness in collectability is of utmost importance. We've put a lot of thought into playful designs for Squinkies Season 2 to ensure the wow-factor for our fans," said Bill Nichols, CEO of Blip Toys.
Squinkies 'Do Drops allows kids to mix and match Squinkies and 'Do's to make thousands of dress-up combinations. The 'Do's range from pretty to silly hats, hairstyles and accessories for hours of creative play. A broad spectrum of playsets and accessories are the perfect holiday gifts for kids, providing a variety of play pieces and opportunities for role-play at a great value. Collectors can amass a neighborhood of Squinkieville Villas, available in blind packs along with two Squinkies and a 'Do, or they can build a Squinkieville world with playsets, each containing a Squinkies destination, exclusive characters and exclusive 'Do's.
About Blip Toys
Bill Nichols established Blip Toys in 2000 with a passion for making high quality toys for today's kids, offered at a great value. Blip Toys is a fast-reacting, trend-driven global marketer of high-volume toy concepts including dolls, collectibles, plush, animatronics, activity, outdoor, novelty and action toys.