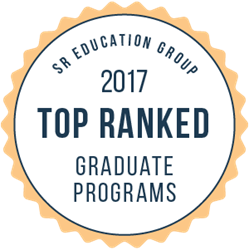 This year's rankings include twenty master's program rankings, ten online master's program rankings, and four doctoral program rankings.
Kirkland, WA (PRWEB) February 14, 2017
SR Education Group, a leading education research publisher founded in 2004, has just released a major update to GraduatePrograms.com: the 2017 Top Graduate Schools. This year's rankings include twenty master's program rankings, ten online master's program rankings, and four doctoral program rankings. The methodology for creating the lists involves aggregating feedback from student reviews and ratings submitted on GraduatePrograms.com, which has collected over 57,000 reviews of over 1,600 colleges since 2012.
SR Education Group's 2017 Top Graduate School Rankings depend upon proprietary review data, along with tuition data gathered from the National Center for Education Statistics (NCES), the primary government entity for gathering and presenting data related to education. The methodology considers student feedback collected via program-specific college reviews on GraduatePrograms.com. The website's college review form includes questions related to students' educational experiences and outcomes, and it also asks students to rate their school from one to five on a variety of factors that influence student satisfaction, such as quality of instruction, career advising, networking opportunities, student financial services, and career preparedness.
Arizona State University is the most recognized of the top-rated graduate schools, making it on an impressive 17 of the 2017 Top Graduate Programs lists. Twelve of their traditional degree programs ranked among the best, and five of their online programs made the rankings. University of Southern California is also rated highly across a variety of subjects, earning placement on 14 of the lists. Liberty University is the most recognized school for online programs, making nine out of the ten program-specific rankings of the top online graduate schools.
"The most useful resource for prospective students is the experience of other students," said Sung Rhee, CEO of SR Education Group. "With our rankings, we want to provide something more valuable than just a list of the most prestigious colleges, so we've compiled thousands of students' real experiences into accessible online resources available to anyone considering graduate school."
A total of 245 colleges were recognized in SR Education Group's 2017 Top Graduate School rankings, which list the highest-rated institutions across 23 different subjects. The organization plans to continue collecting and publishing student reviews in order to annually update and expand their rankings of the top graduate schools by program.
About SR Education Group
Headquartered in Kirkland, WA, SR Education Group was founded in 2004 by CEO Sung Rhee. The company's mission is to create authoritative online resources for students seeking an online education program that best suits their budget and career aspirations. SR Education Group is passionate about making quality education attainable for everyone and believes that objective information about education, careers, and educational financing should be free and easily accessible. For more information, please visit http://www.sreducationgroup.org/.