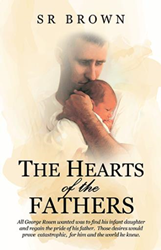 CONYERS, Ga. (PRWEB) January 19, 2023
How far should a father go to protect his child? How far is not far enough? Readers are set to find out in SR Brown's debut novel titled "The Hearts of the Fathers" (published by LifeRich Publishing).
In the turbulent world of the 1960s, a wealthy and established family, living on the Caribbean Island of Jamaica, is about to experience the violent political and cultural upheaval of their world. When a girl is killed and their youngest son is accused of the crime, the family is thrown into a crisis that exposes hidden scars and festering wounds. In their moments of utter despair, they call on the name of the Lord, and he hears them.
"The Hearts of the Fathers" is a realistic story about a Christian family in trouble. The characters exhibit relatable human experience and emotions. They are fallible, in need of forgiveness and grace.
When asked what she wants readers to take away from the book, the author states, "I want non-believers to stop and wonder; I want Caribbean natives and expatriates to be glad to read a story that speaks of their experience; I want believers to be touched, encouraged and have their faith affirmed."
Visit https://www.liferichpublishing.com/en/bookstore/bookdetails/844288-the-hearts-of-the-fathers to get a copy.
"The Hearts of the Fathers"
By SR Brown
Hardcover | 5.5 x 8.5in | 374 pages | ISBN 9781489744586
Softcover | 5.5 x 8.5in | 374 pages | ISBN 9781489744593
E-Book | 374 pages | ISBN 9781489744937
Available at Amazon and Barnes & Noble
About the Author
SR Brown is a native of Jamaica, who grew up in New York, studied English writing at Queens College where she received a Bachelor of Arts degree. As a young adult, she moved to Miami and connected with the large West Indian community there, rediscovering her heritage and cultural identity. Today she lives in the Atlanta area and follows the teachings of Jesus Christ. This is her first major work.
LifeRich Publishing, the strategic publishing partnership of Reader's Digest and Author Solutions, LLC, was created to provide all writers a platform for sharing their stories, recipes, advice and more. LifeRich authors will benefit from a wealth of editorial design, marketing and education resources, specially created by Reader's Digest editors for the enrichment of these LifeSmart individuals. Books can be published in print, ebook or audio formats, with additional distribution to up to 25 million Reader's Digest customers through its online properties. For more information or to publish a book, please visit liferichpublishing.com or call 844-686-9607.