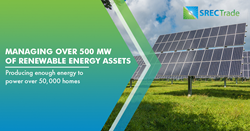 SAN FRANCISCO (PRWEB) March 11, 2019
On February 5, 2019 SRECTrade's environmental commodity management platform surpassed 500 megawatts (MW) of assets under management. At the time of this press release, the Company manages more than 520 MW of clean energy projects spanning more than 36,000 assets. SRECTrade's assets under management are comprised of solar photovoltaic, wind, renewable thermal, and electric vehicle assets. This milestone demonstrates the Company's ability to manage clean energy projects across a variety of environmental commodity incentive markets.
Over the past decade, SRECTrade has established itself as the preeminent provider of efficient environmental commodity management and technology solutions. The Company provides cloud-based services to the clean energy industry with an expertise in managing, transacting, and processing environmental incentives. SRECTrade's mission is to accelerate the adoption of clean energy by providing services and technology that minimize the time, cost, and risk associated with achieving benefits and compliance in the markets it serves.
SRECTrade-X, the Company's portfolio management software, provides services to institutional renewable energy asset owners covering an additional 1.2 gigawatts (GW) of assets across more than 115,000 projects. The platform also provides renewable energy credit (REC) solutions to electricity suppliers and environmental commodity trading firms.
In 2018, the Company expanded its business by launching its Portfolio Partnership Program, merging U.S. Photovoltaics' REC management, aggregation, and transaction services onto the SRECTrade platform.
Additionally, SRECTrade recently expanded its services to cover the California Low Carbon Fuel Standard, the Illinois Adjustable Block Program, and the Massachusetts Alternative Portfolio Standard (APS), demonstrating and highlighting its capability to enter and successfully manage and transact across a diverse complex of commodities.
"We are extremely proud to be servicing a broad base of clients across a variety of clean energy markets," says Steven Eisenberg, SRECTrade's Chief Executive Officer. "The transition to a more sustainable energy and transportation infrastructure is going to continue to be distributed and unique. We look forward to enabling this expansion through technology solutions and market expertise. Our goal is to make these markets accessible to all energy stakeholders, enabling ease of success in complicated markets."
Since 2008, SRECTrade has been a domain expert in environmental commodity markets, bringing a wealth of knowledge and transparency to some of the fastest growing state markets in the clean energy industry.
SRECTrade has offices in San Francisco, CA and Boston, MA.
Connect with SRECTrade on:
SRECTrade Blog – LinkedIn – Twitter – Facebook