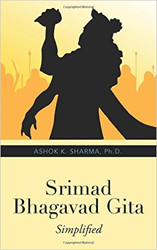 MINNETONKA, Minn. (PRWEB) April 13, 2016
Author Ashok K. Sharma, Ph.D., developed an interest in Srimad Bhagavad Gita years ago, but realized that the 700-verse Hindu scripture needed to be simplified and condensed for the common man. The result of his efforts is the new book, "Srimad Bhagavad Gita: Simplified" (published by Partridge India).
"The Gita is a very interesting subject not just for Hindus but for all humans," Sharma says. "The depiction of God presented in Gita is unique and its teachings are in complete harmony with modern science."
Sharma adds that the Gita presents a universal vision of God. "Everything – the stars, the planets, the galaxies, the Sun, the Moon, and even the death – falls within the broad spectrum of God. He is the beginning, middle and end of the entire universe," he says.
Sharma hopes that readers of his book will realize that God does not live in temples, mosques and churches. "He lives in the hearts of each living being as the immortal soul and on a fundamental level there is no difference between various life forms," Sharma says.
Gita rejects "casteism", equates nature with God and places great emphasis on Dhyana Yoga, or deep meditation. "A person who has mastered the art of Dhyana Yoga adopts a middle path, eats balanced food, sleeps adequately, and remains unmoved by the ups and downs of life," Sharma says, quoting Gita.
"Srimad Bhagavad Gita: Simplified"
By Ashok K. Sharma, Ph.D.
Softcover | 5 x 8in | 64 pages | ISBN 9781482868197
E-Book | 64 pages | ISBN 9781482868180
Available at Amazon and Barnes & Noble
About the Author
Ashok K. Sharma, Ph.D., is a research scientist by profession who received his doctorate from a premier institution in the USA. Sharma has written many scientific papers and holds several US patents. He started writing books and short stories as a hobby. His first book, "The Inevitable Separation" is a confluence of spirituality and science. He currently works for a biomedical company in Minnesota.
Partridge India, a Penguin Random House company, is a leading provider of book publishing, marketing and bookselling services for authors in India, all priced appropriately for the Indian market. Committed to providing the highest level of customer service, Partridge India assigns each author personal publishing and marketing consultants who provide guidance throughout the process. Partridge India shares its headquarters with Penguin Books India in New Delhi. For more information or to publish a book, visit partridgepublishing.com/india or call 000.800.10062.62. For the latest, follow @PartridgeIndia on Twitter.