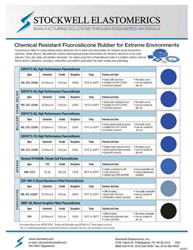 "The new SSP4773 was developed to meet a need in the market for high-performance fluorosilicone", said Stockwell Elastomerics' CEO Bill Stockwell. "The new touch brochure's tactile samples clearly demonstrate the materials' properties."
PHILADELPHIA (PRWEB) April 09, 2019
Stockwell Elastomerics introduces SSP4773 high performance fluorosilicone rubber (https://www.stockwell.com/fluorosilicone/) and announces the availability of their new Fluorosilicone Touch Brochure highlighting chemical-resistant fluorosilicone rubber for extreme environments. The new SSP4773 fluorosilicone is a family of high-performance peroxide-catalyzed, heat cured, fluorosilicone rubber products developed for the most demanding applications. SSP4773 is tested and certified to the military standards of MIL-DTL-25988, assuring that critical parts will meet performance expectations without compromise. SSP4773 is stocked in 4 durometers: 40, 50, 60 and 70 shore A; stocked products are available with short lead times and small order quantities.
This fluorosilicone touch brochure includes tactile buttons of 7 different fluorosilicone materials and has been created to assist engineers tasked with specifying fluorosilicone in industrial, aerospace, aviation and analytical instrumentation applications for static sealing and cushioning. It can be requested online at: https://www.stockwell.com/FluorosiliconeTouch.
Fluorosilicone rubber (https://www.stockwell.com/fluorosilicone/) is a long-lasting sealing elastomer that is stable and compression set resistant across temperature extremes. Unlike silicone, fluorosilicone contains trifluoropropyl groups that enhance its chemical resistance to non-polar solvents, fuels, oils, acids, and alkaline chemicals at temperatures between -70°F and 450°F . These unique properties make fluorosilicone a useful problem-solving material for tough engineering challenges. Stockwell Elastomerics offers fluorosilicone solid sheets, closed cell fluorosilicone sponge, fluorosilicone EMI gaskets (https://www.stockwell.com/emi-gaskets/), and molded or die cut fluorosilicone parts.
"The new SSP4773 was developed to meet a need in the market for high-performance fluorosilicone", said Stockwell Elastomerics' CEO Bill Stockwell. "We see application requirements for chemical resistance and use in extreme temperatures that drove the development of this material. The new touch brochure's tactile samples clearly demonstrate the materials' properties."
Stockwell Elastomerics' new fluorosilicone touch brochure highlights seven products:
SSP4773 Military Grade Solid Fluorosilicone - 4 samples representing 4 different durometers: SSP4773-40, SSP4773-50, SSP4773-60, and SSP4773-70. All four meet MIL-DTL-25988 C specification, are peroxide cured, and can be molded or die cut. SSP4773 is available in precise thickness 12" wide rolls from 0.020" to 0.125" thick, sheets up to 0.5" thick, fabricated parts and molded articles. Custom construction and compounds, such as fiberglass reinforced composites, are also available.
NORSEAL® R10490M Closed Cell Fluorosilicone Sponge - 1 sample that meets AMS 3323, Class 2 specification, and is suitable for sealing to IP65 and IP66 requirements with the proper gasket configuration.
SCF-444-P, Passivated Silver-Aluminum Filled Thermally Conductive Fluorosilicone - 1 sample that meets MIL-DTL-83528 specification (at 65 Shore A), and is suitable for defense electronics and military EMI shielding applications requiring the highest attenuation values.
SNEF-60, Nickel-Graphite Filled Thermally Conductive Fluorosilicone - 1 sample with 60 Shore A durometer, a lower cost material that is suitable for industrial and military EMI shielding applications requiring fuel and oil resistance.
About Stockwell Elastomerics, Inc.
Stockwell Elastomerics' core competence is the fabrication and molding of gaskets and pads using silicone rubber, fluorosilicone, and similar high performance elastomers. On-site production capabilities include adhesive lamination, slitting, die cutting, water jet cutting and custom molding. Many Stockwell Elastomerics customers take advantage of water jet cutting and flash cutting for fast turn prototypes and initial production. Stockwell Elastomerics, Inc. is ISO 9001:2015 registered.
Contact Stockwell Elastomerics (https://www.stockwell.com/contact/) for more information and applications assistance.
NORSEAL® is a registered trademark of Saint-Gobain.