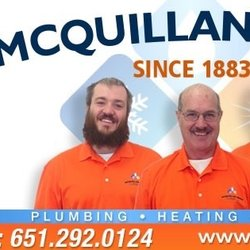 We provide all types of plumbing, heating and air conditioning service, installation and repair in Minneapolis and the entire Twin Cities area including St. Paul
St. Paul, MN (PRWEB) May 07, 2015
St. Paul drain cleaning by MCQ Plumbing Heating AC is always handled by highly trained professionals. They are now offering a new special. Customers can have their main drain or sewer line cleared for $35 off as long as a cleanout is present. In addition to the money savings they are also sweetening the deal by offering a plumbing inspection. The new offer expires 11/01/2015 and has some restrictions. "One of the most common problems people have with their plumbing system is clogs in the drain lines," says John of MCQ Plumbing Heating AC.
"We are offering this new St. Paul drain cleaning special because we want everyone to be able to try MCQ Plumbing Heating AC. We know once people experience how we treat people they will become customers for life," says John, Manager at MCQ Plumbing Heating AC. They are also offering a video camera inspection to their customers with the St. Paul drain cleaning service because it is the best way to accurately determine the condition of the pipes.
"After our plumber clears the drain line he can use our sewer camera to carefully examine the pipe if the homeowner chooses. This allows the technician and the homeowner to see tree roots, breaks and the overall condition of the pipe. If there is a problem we recommend making repairs before the problem becomes worse and more expensive to repair," says John. St. Paul sewer repair and drain cleaning companies should be hired with care according to John because the wrong person using the wrong equipment on an old sewer pipe can cause major damage.
If the video inspection reveals a serious problem that must be handled immediately, MCQ Plumbing Heating AC is up to the task. There is no sewer repair in St. Paul they can't handle. They offer advanced sewer line cleaning techniques including water jetting. If the pipe must be replaced they can handle that too, and without digging up the yard. "We offer trenchless technology for some sewer pipe replacements in St Paul which saves time and money while preserving landscaping," says John.
Minneapolis sewer repair is also available from MCQ Plumbing Heating AC. "We provide all types of plumbing, heating and air conditioning service, installation and repair in Minneapolis and the entire Twin Cities area including St. Paul and surrounding areas. "If you live in the Twin Cities areas please call us for any repair or replacement you need. We also handle all types of plumbing and HVAC installations. We have been around for over 130 years and we treat our customers' right."
Sewer repair in Minneapolis can be difficult if there are major problems with an old sewer pipe according to John. "People should be careful when hiring a sewer contractor in Minneapolis or anywhere in the Twin Cities area for that matter. An unlicensed or inexperienced contractor may not have the equipment or know how to get the job done right the first time. We come in on jobs after a homeowner or inexperienced contractor has failed to complete the necessary repairs all of the time."
To learn more about MCQ Plumbing Heating AC please visit their website. To take advantage of the $35 off St. Paul drain cleaning special please call (651) 222-9590 in Minneapolis please call (612) 345-9493. People can also learn more about the company by watching their informative online videos, reading their press releases or checking out their many positive plumbing reviews.
MCQ Plumbing Heating AC
1324 Grand Ave
Saint Paul, MN 55105
(651) 222-9590