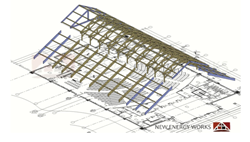 We're excited to be part of the St. Pius X rebuild and to share the timber frame raising with the community.
Rochester, NY (PRWEB) August 02, 2017
On New Years Day, 2015 a devastating fire claimed the St. Pius X Church in the Town of Chili, New York. Rebuilding the St Pius X Church is underway and will see the raising of a timber frame truss roof system by New Energy Works Timberframers this week. Beginning Thursday, August 3 through Friday, August 4*, New Energy Works will be raising the heavy timber trusses at 2998 Chili Ave in Rochester, NY. The public and media are welcome to view the raising from 9am to 3pm, daily.
"We're excited to be part of the St. Pius X rebuild and to share the raising with the community. Timber frame raisings offer a chance to witness the culmination of months of effort and planning. Watching huge, hand-joined trusses "fly" into place is an event to be remembered," shares Eric Fraser, New Energy Works Timber Frame Manager.
The raising will include hand crafted from kiln dried Douglas fir timbers in New Energy Works Farmington NY shop. Each truss spans 37 feet and is joined with traditional mortise and tenons, secured with hardwood pegs. Integrated structural steel tie rods help carry the load to steel beams bearing the trusses. Ten trusses will remain visible in the completed church.
Also being raised is the lower roof area. It will be supported by 24" x 7" keyed beams, each spanning 32 feet and resting in steel saddles. Each keyed beam was crafted with separate 12" x 7" timbers, joined with wooden "keys" to create an overall larger timber capable of carrying heavier loads such as the snow loads common to Rochester, NY.
Hanlon Architects and Nichols Construction Team are leading the effort in making this church a reality. At approximately 15,000 sq ft the building's expected completion is March, 2018.
*Raising dates are subject to change due to weather, site conditions, or other factors. Please check New Energy Works Events and Raisings for the latest.
New Energy Works Timberframers have been designing and building environmentally responsible timber frames across the USA for more than 30 years from their facilities in Oregon and New York. Offerings include: Timber Framing (design, engineering, manufacturing, build), Enclosure Systems, Fine Woodworking, and Recycled and Sustainable wood products. New Energy Works has LEED AP staff members, is a member of the US Green Building Council, and is FSC Certified.