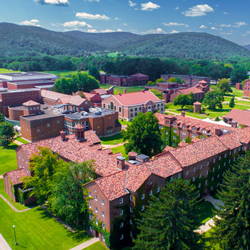 "It is a high-value, high-quality learning experience that instills creative, strategic, and actionable knowledge for today's vast communication landscape."
ST. BONAVENTURE, N.Y. (PRWEB) November 18, 2020
St. Bonaventure University, an institute of higher education recognized for its academic excellence both on-campus and online, launched an online Master of Arts in Communication this month to help meet the need for modern-day communication professionals who are equipped with the skills to succeed within this fast-changing field.
In particular, the program – which offers specializations in integrated marketing, content marketing and public relations – will teach students concepts such as creating a campaign vision, crafting strategies, developing high-touch content for target audiences, analyzing data, measuring success, among other topics.
"The new degree program aligns with the most in-demand skills required of communication professionals today such as: content marketing, public relations, experiential marketing, and making meaning from data," Heather Harris, program director for Master of Arts in Communication, said. "It is a high-value, high-quality learning experience that instills creative, strategic, and actionable knowledge for today's vast communication landscape."
St. Bonaventure's School of Communication is accredited by the Accrediting Council on Education in Journalism and Mass Communications (ACEJMC) and is just one of three ACEJMC schools offering accredited online graduate programs.
Now accepting applications for its first term in January, the Master of Arts in Communication program is taught 100 percent online and was designed to reflect the real world where information, data, and communication interact, helping students cultivate interdisciplinary knowledge.
"This new communication degree builds upon our legacy of communication leadership, while also adapting to an ever-evolving communication landscape," Aaron Chimbel, dean of St. Bonaventure's Jandoli School of Communication, said.
For more information on the program, please visit our website.
About St. Bonaventure University
St. Bonaventure delivers online degree programs with the same academic excellence established on campus since 1858. The school empowers students to become extraordinary by emphasizing human relationships. From enrollment to graduation, the university's online programs provide personalized attention and interactions that will improve knowledge retention, networking opportunities, and overall learning experience.
St. Bonaventure is committed to preparing students to be extraordinary and ethical gatherers, analyzers and communicators of information in a diverse, interactive global environment. It provides undergraduate and graduate programs where students learn to investigate and wonder in their pursuit of knowledge to find truth. St. Bonaventure values freedom of expression and basic human understanding and humility in recognition of our personal responsibility and social impact worldwide.
Students become better global stewards through interdisciplinary learning that harnesses creativity and wisdom, making better communicators, no matter the medium. Through entrepreneurial classroom experiences, dynamic classes, mentorship, and professional internship opportunities, St. Bonaventure promotes integrity, accuracy, professional standards and ethical principles.
It was recently ranked #19 in Regional Universities and #3 Best Value in New York State in the 2021 rankings from U.S. News & World Report.