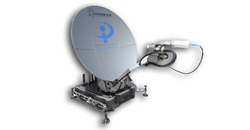 "The iQ LTE modem and IP Access FUSION integration is a solution that enables customers to cost-effectively bring highly available and reliable connectivity to end users, opening up new business opportunities." - Bryan Hill, CEO, IP Access International
HERNDON, Va. (PRWEB) September 02, 2020
ST Engineering iDirect, a company of ST Engineering North America, today announced that its iDirect iQ Series Satellite Modems have been integrated into mobile and fixed satellite internet solutions provider IP Access International's FUSION product line, providing seamless, reliable and cost-effective connectivity that meets increasingly complex communications requirements.
As demand for always-on connectivity from commercial, government and emergency services organizations continues to grow, solutions that enable seamless switching between different networks are becoming increasingly essential. FUSION utilizes the iQ LTE satellite modem, which features an integrated LTE cellular modem, to create a converged solution that automatically finds and connects to all available networks, including LTE, 4G/5G and multiple satellite networks, without user intervention. This delivers reliable data communication for several use cases where the physical path redundancy is critical.
This hybrid approach benefits markets, such as Government and Emergency Response, Oil and Gas, Mobile Banking, and Disaster Recovery, where connectivity is often limited due to their challenging operating environments.
"The iQ LTE modem and IP Access FUSION integration is a solution that enables customers to cost-effectively bring highly available and reliable connectivity to end users, opening up new business opportunities," said Bryan Hill, CEO, IP Access International. "The value of the IP Access solution lies in its integrated design which removes the need for multiple rack units, addressing space constraints in confined command vehicles."
The iQ LTE is part of ST Engineering iDirect's DVB-S2/S2X modem series with a software-defined architecture for maximum flexibility and expansion. The integrated LTE modem offers fully automated VSAT/LTE failover and failback, WAN link affinity steering, advanced VPN connectivity, and an available SD-WAN option for robust enterprise-grade communications.
"We are delighted that IP Access has leveraged our technologies to enhance their products, enabling the best connectivity experience at the right cost point to customers doing critical work in the field. IP Access has been our long-time partner and we look forward to more opportunities for collaboration in the future," said Darren Ludington, Regional Vice President, Americas Sales, ST Engineering iDirect.
A range of applications can be run on the FUSION system, including data and voice (VoIP) GPS for mapping purposes, Radio over IP (RoIP) and streamed videos such as drone footage. The FUSION product line is available in two form factors: the 1U Rack Mount which allows for a space-conscious design meant for brick and mortar facilities or mobile vehicles where a satellite antenna is on the roof; and the Harrier flyaway communication terminal which features an integrated iDirect iQ200 board that offers robust, high performance mobility features.