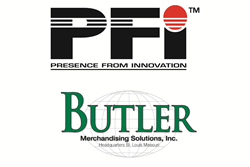 This is a strategic acquisition of a company that has been a leader in the temporary display industry. PFI and Butler are now positioned to offer greater value with products and solutions designed to meet customer demand. -John Dolan, PFI president and CEO
ST. LOUIS, Mo. (PRWEB) April 15, 2019
St. Louis-based retail store display and fixture manufacturing company, PFI Holding Company, LLC recently completed the acquisition of Butler Merchandising Solutions, Inc. Butler, also headquartered in St. Louis, has been a strong player in the temporary display business since 1926. The company is a natural fit with the PFI group of companies and enables the business to provide permanent, semi-permanent and, now, temporary display solutions to its customers. The customers of both companies include major retailers, as well as the consumer goods sold at those retailers.
"This is a strategic acquisition of a company that has been a leader in the temporary display industry," says PFI president and CEO, John Dolan. "As stores and brands address the dynamic changes in today's retail environment, PFI and Butler are now positioned to offer greater value with products and solutions designed to meet customer demands for increased relevancy and creativity. There is no question that the customers of each company will benefit from a one-stop-shop that offers point-of-purchase displays made out of a multitude of materials that can be used in convenience stores, grocery, large format stores and designer retailers."
"Our customer base, from coast to coast, will enjoy superior products and cost savings on delivered goods from our centrally located Midwest facilities," says Butler MSI president, Kenneth Butler.
PFI intends to keep the Butler name and downtown St. Louis production location, adding to PFI's existing four facilities in the St. Louis metropolitan area. Kenneth Butler will join the PFI executive management team, and the companies also plan to leverage synergies in supply chain, production and management resources to provide further value to their customers.
About PFI
PFI's 300+ employees design, engineer and manufacture permanent, semi-permanent and temporary retail fixtures and displays for leading CPG companies and retailers. PFI has three manufacturing locations in St. Louis specializing in plastics injection molding, thermoforming, wood and metal. A fourth location, which operates under the name of Jahabow, is located in Owensville, MO and specializes in building retail showcases and permanent retail fixtures made of wood, glass and metal. The company's fifth and newest St. Louis location manufactures temporary retail displays and operates under the name of Butler Merchandising Solutions.