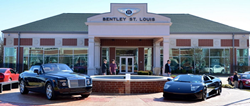 ST. LOUIS (PRWEB) December 21, 2018
While new car models can deliver the latest technologies and performance capabilities to drivers, there is still something to be said for classic car models built decades ago, or even some of the more unique car brands that may not be household names but that certainly draw the attention of car collectors and enthusiasts.
St. Louis Motorcars often has such models in its inventory of pre-owned vehicles, and to help collectors and enthusiasts alike learn more about what these cars can do and what makes them unique, the dealership educates interested buyers on its website blog.
Recently, the dealership welcomed a 2006 Panoz Esperante into its inventory. Though not old enough to be considered a classic, it's a car that certainly attracts the attention of enthusiasts with its sports car performance and design. St. Louis Motorcars recently educated drivers about the model on its blog. In the past, the dealership has also highlighted a 1979 Porsche 930 Turbo Carrera Coupe and has also welcomed a 1990 Ferrari Testarossa into its inventory of pre-owned models.
St. Louis Motorcars offers vehicle transport for car sales, maintenance and repairs using experienced drivers and enclosed transporters. Those interested in the service or any of the vehicles offered at the dealership can call 636-489-3788.
St. Louis Motorcars also provides new models from brands like Aston Martin, Bentley, Bugatti, Lamborghini, Lotus and Rolls-Royce, with even more variety from the dealership's pre-owned selection. More information about the models mentioned and other new or pre-owned vehicles in the dealership's inventory can be found on the St. Louis Motorcars website at http://www.stl.cars.