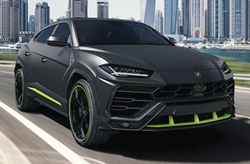 ST. LOUIS (PRWEB) October 18, 2020
In order to keep shoppers up to date, the team of Lamborghini Austin has detailed some of the new technology inside the Lamborghini Urus Graphite Capsule. The dealer blog of Lamborghini Austin is a hub of information on the latest exotic models available inside their showroom.
The Lamborghini Urus Graphite Capsule is a new super sports utility vehicle ready for drivers to configure to their own desires. This vehicle has four configuration sets for shoppers to choose from and four color options, the Nero Noctis, Grigio Keres, Grigio Nimbus and Bianco Monocerus. These dark, bold colors offer something for drivers who want a serious driving experience.
In a recent blog post, Lamborghini Austin details some of the technology that can help drivers connect with the rest of the world and adjust their driving behavior to help them reach their destination safely. The Lamborghini Urus has a navigation system that can guide drivers on their next journey. This vehicle has satellite maps, 3D City Views and real traffic alert information. These tools can help drivers find their way. This vehicle also has features like local hazard information, road signs online, and a Wi-Fi hotspot for added assistance.
The blog post and others detailing models from Lamborghini, Aston Martin, Bentley, Lotus and Rolls-Royce are available online. Drivers who are interested in learning more about the Lamborghini Urus Graphite Capsule can learn more by visiting the specific web page on the Holman Motorcars St. Louis dealer website, stl.cars. Interested parties can also learn more by visiting the showroom located at One Arnage Blvd. St. Louis, MO 63005 between 9 a.m. and 6 p.m. Monday through Friday and 10 a.m. until 5 p.m. on Saturdays.