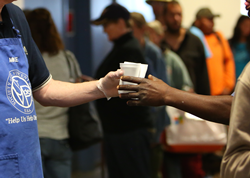 "Heat relief in the summer is certainly one of the most important ways St. Vincent de Paul steps up to help those most in need," SVdP Executive Director Steve Zabilski said. "This essential operation keeps the most vulnerable of our community cool, safe, hydrated and alive."
PHOENIX (PRWEB) July 01, 2019
Arizonans may joke about the 'dry' summer heat or what it's like living in a furnace, but it really is no laughing matter when it comes to the homeless and low-income population. In 2018 alone, there were 181 heat-related deaths in Maricopa County with about 25% of those being individuals experiencing homelessness. To provide relief from the heat, the Society of St. Vincent de Paul has extended hours at their dining rooms across the Valley to take in those needing a respite from the heat both during the day, and overnight.
Since the hours of operation were extended at the beginning of June, SVdP is seeing an average of 50-80 additional people per day at each of the dining rooms to seek shelter during the extreme heat of the day. Since the beginning of June, SVdP has provided more than 2,500 overnight stays in one of their dining rooms.
"Prior to opening the Human Services Campus dining room overnight on June 1, 45% of those asking for shelter were not able to receive it due to capacity," says Jessica Berg, chief program officer at SVdP. "The summer relief shelter has helped with this tremendously and for that, and our partners, we are thankful."
In addition to the heat relief locations, St. Vincent de Paul continually distributes items to those in need like water, sunscreen, hats, shoes and more. During summer months, water deliveries are made to individuals on the streets averaging more 2,500 bottles of water per day or roughly 18,000 per week.
"Heat relief in the summer is certainly one of the most important ways St. Vincent de Paul steps up to help those most in need," SVdP Executive Director Steve Zabilski said. "This essential operation keeps the most vulnerable of our community cool, safe, hydrated and alive."
To keep up with the need, SVdP is tapping into our digital consumer culture with the use of an Amazon Wish List to collect life-saving heat relief donations. Functioning similarly to a wedding registry, SVdP enters their Amazon wish list items based on what is needed most. Items are prioritized along with how many of each are needed. After a purchase is complete, Amazon then sends the items directly to SVdP so donors don't have to drop them off or send the supplies themselves. It's a fast, convenient and efficient way for the community to contribute from their phones or computers wherever they are.
Atop the summer list are necessities like water, hats, sunscreen and deodorant, but daily items like canned proteins, socks, underwear, diapers and shoes are always needed. For most up to date list of needs, visit http://www.summerrelief.org.
The dining rooms that have extended their hours for summer include Sunnyslope, Mesa, and Downtown Phoenix Human Services Campus, as well as the Resource Center at the Diane and Bruce Halle Center for Hope and Healing. Addresses and more information can be found at http://www.stvincentdepaul.net/programs/dining-rooms.
About the Society of St. Vincent de Paul, Phoenix
The Society of St. Vincent de Paul is an international non-profit organization dedicated to serving people in need and providing others with the opportunity to serve. The Phoenix Diocesan Council has been assisting central and northern Arizona families since 1946. Programs aim to feed, clothe, house and heal individuals and families through five charity dining rooms, medical and dental care for the uninsured, transitional housing, thrift stores and a general helping hand.