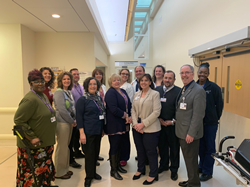 "Since the inception of CCAR's EDRC program, their coaches have worked with more than 5,500 individuals. Ninety-three percent of those interactions resulted in connection to support."
BRIDGEPORT, Conn. (PRWEB) March 11, 2020
On March 9th, St. Vincent's Medical Center in Bridgeport became the 21st hospital in Connecticut to incorporate the Emergency Department Recovery Coach (EDRC) program from the Connecticut Community for Addiction Recovery (CCAR) into their Emergency Department. The program launch at St. Vincent's is the result of collaborative efforts from CCAR, the Cigna Foundation, and Hartford HealthCare.
Recovery Coaches are skilled professionals, often with first-hand experience of Recovery, who support individuals affected by substance use through one-on-one connection, resource brokering, and follow-up conversations.
CCAR's Emergency Department Recovery Coach program was launched in 2017 with a small team responding to a handful of hospitals. Since then, the program has grown to employ a team of 18 coaches responding to 21 hospitals across Connecticut. Since the inception of CCAR's EDRC program, their coaches have worked with more than 5,500 individuals. Ninety-three percent of those interactions resulted in connection to support.
CCAR has had a strong presence in Bridgeport since they opened a Recovery Community Center in the heart of downtown in 2006. Of CCAR's five centers in Connecticut, Bridgeport is one of the busiest. Last year alone, the Bridgeport Recovery Community Center had about 16,000 people come through its doors. It was clear to leadership at CCAR that as the EDRC program grew and the opioid crisis continued, having Recovery Coaches in Bridgeport Emergency Departments would be of great benefit to that community.
The launch of CCAR's EDRC program at St. Vincent's was funded through a grant from the Cigna Foundation.
"The misuse of opioids and other substances continues to take a heavy toll in Connecticut and presents an ongoing threat to the health and well-being of our communities," said Wendy Sherry, president of Cigna's Connecticut market. "We are pleased that funding from the Cigna Foundation has enabled CCAR to bring its innovative program to St. Vincent's, where we hope it will help reduce overdoses and potentially save lives."
The recent acquisition of St. Vincent's by Hartford HealthCare was timely. With CCAR coaches already working in every other Hartford HealthCare-run Emergency Department, officials at Hartford HealthCare were eager to make this service available at their newest ED.
"Having EDRC's throughout the Hartford HealthCare system has been incredibly valuable" said Patricia Rehmer, President, Behavioral Health Network, Hartford HealthCare. "We're very pleased to now be able to offer this at our ED at St. Vincent's so that we can reach people in all parts of the state who need this critical service."
CCAR's EDRC Program Manager, Jennifer Chadukiewicz, is also pleased with the results of the collaboration. "It became clear that utilizing the Cigna Foundation grant to bring our EDRC Program into St. Vincent's, already known for their mission to serve 'those who are poor, vulnerable, and under-served', was the right choice. This collaboration was truly inspired by a spirit of community coming together for a higher good."
About CCAR
CCAR is a Connecticut-based 501(C)3 nonprofit, founded in 1998. CCAR envisions a world where the power, hope, and healing of recovery from addiction is thoroughly understood and embraced. They work to promote recovery from addiction through Advocacy, Education, and Service. CCAR Advocates to represent the interests of the Recovery Community on the state and national level and are the global leaders in Recovery Coach training. Their Service pillar encompasses 5 Recovery Community Centers in Connecticut, the Emergency Department Recovery Coach program, and the Young Adult and Family Program. Learn more about CCAR by visiting http://www.CCAR.us or following them on Twitter and Facebook: @CCAR4Recovery
About Hartford HealthCare
Hartford HealthCare is Connecticut's most comprehensive healthcare network. With 24,000 employees and total operating revenue of $4.3 billion, Hartford HealthCare has cultivated a strong, unified culture of accountability and innovation. Its care-delivery system, serving 161 towns and cities, includes two tertiary-level teaching hospitals, an acute-care community teaching hospital, an acute-care hospital and trauma center, three community hospitals, the state's most extensive behavioral health network, a large multispecialty physician group, a clinical care organization, a regional home care system, an array of senior care services, and a large physical therapy and rehabilitation network at more than 350 locations in Connecticut and Rhode island. Hartford HealthCare's unique, system-wide Institute Model offers a single, high standard of care in crucial specialties at hospital and ambulatory sites across Connecticut. The institutes include: Cancer; Behavioral Health; Heart and Vascular; Neuroscience; Orthopedics and Urology. Visit Hartford HealthCare at http://www.hartfordhealthcare.org.
About St. Vincent's Medical Center
Founded by the Daughters of Charity in 1903, St. Vincent's Medical Center is a mission-driven organization committed to exceptional health care for all with special attention to persons living in poverty and those who are most vulnerable. St. Vincent's, with more than 3,500 associates, includes a licensed 473-bed community teaching hospital, a 76-bed inpatient psychiatric facility in Westport, and a large multispecialty provider group. St. Vincent's was awarded the Nursing Magnet® Recognition, the highest national award for nursing excellence. In 2013, St. Vincent's Medical Center was named Top Performer on Key Quality Measures® by the Joint Commission, the leading accreditor of health care organizations in America, and has been recognized by both the Joint Commission and OSHA as a model of a highly reliable organization dedicated to patient safety. The American College of Surgeons Commission on Cancer awarded St. Vincent's an Outstanding Achievement Award with Accreditation in 2012, and it also has earned its designation from the National Accreditation Program for Breast Cancer. For more information on programs and services, visit http://www.stvincents.org
About the Cigna Foundation
The Cigna Foundation, established in 1962, is a private foundation funded by contributions from Cigna Corporation (NYSE: CI) and its subsidiaries. The Cigna Foundation supports organizations sharing its commitment to enhancing the health of individuals and families, and the well-being of their communities, with a special focus on those communities where Cigna employees live and work.