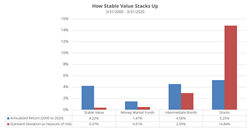 WASHINGTON (PRWEB) April 23, 2020
Stable value is an investment product offered only in tax qualified plans, namely defined contribution and 529 education savings plans. First introduced in the 1970s, today assets in stable value products total more than $800 billion with 78% of retirement plans offering a stable value fund option.
This release is a succinct one-page document that outlines the value proposition of stable value. It covers the following topics:
Where are stable value products offered? What are the benefits of stable value? How do stable value products work? Who uses stable value?
This one-pager has a supplemental data companion piece that provides a handful of charts and graphs that illustrate stable value's consistent returns and principal preservation features, as well as why stable value reduces volatility (or risk) in your defined contribution asset allocation.
Please use this publication to help communicate the benefits of stable value during this time of extraordinary market volatility and uncertainty.