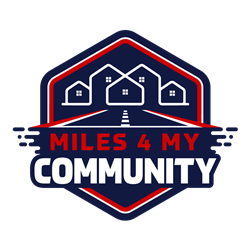 "Our goal is to get 100,000 people getting active, supporting youth sports, and contributing charitable donations to our non-profit partners. This is our chance to join together virtually and meet this moment to truly make a difference."
PLANO, Texas (PRWEB) April 22, 2020
Stack Sports, the largest and fastest-growing global provider of sports technology, announced today that it is launching Miles 4 My Community, a nationwide virtual race, to show support and raise money for youth sports as well as groups impacted by the Coronavirus pandemic in the United States.
This unique virtual race is an opportunity to help us all stay active in these uncertain times while supporting our non-profit partners. We welcome runners, walkers, joggers, bikers, skateboarders, roller skaters, scooters, hula hoopers and other creative ways to come together as a virtual community to log some miles and give back to those in need. Get Active. Save Sports. Support Heroes.
Proceeds will benefit youth sports organizations through GoodSports.org, frontline workers through the American Red Cross, and our communities through The Salvation Army.
"We are thrilled to host Miles 4 My Community and be able to do our part to give back to those in need during these unusual times. Our goal is to get 100,000 people getting active, supporting youth sports, and contributing charitable donations to our non-profit partners," said Jeff Brunsberg, Chief Revenue and Strategy Officer at Stack Sports. "This is our chance to join together virtually and meet this moment to truly make a difference."
All ages are welcome to participate beginning now through May 9, 2020, to log 1 mile or 26.2 at your own pace, wherever you like. The choice is up to you. Above all else, we encourage you to follow local ordinances and federal guidelines and find creative ways to participate while social distancing and staying safe. Geoff Smith the 2 time Boston Marathon winner has already challenged runners to get involved.
"Its Boston Marathon week and I know how hard runners have trained because I have been there," said Geoff Smith 2 time Boston Marathon winner. "What can you do? I know what I am going to do. I am going to run miles 4 my community."
Let's Hope Together, Run Alone to make an impact for our communities and youth sports. To learn more or to register, visit miles4mycommunity.org. #Miles4MyCommunity
About Good Sports
Good Sports helps to lay the foundation for healthy, active lifestyles by providing athletic equipment, footwear, and apparel to disadvantaged young people nationwide. By partnering with sporting goods manufacturers, Good Sports is able to provide equipment, apparel, and footwear to programs in need. This lowers their costs which helps them keep fees affordable, create more scholarships, enhance the quality of their activities, and introduce new sports into their schools or organizations. For more information, please visit goodsports.org.
About the American Red Cross
The American Red Cross shelters, feeds, and provides emotional support to victims of disasters; supplies about 40 percent of the nation's blood; teaches skills that save lives; provides international humanitarian aid; and supports military members and their families. The Red Cross is a not-for-profit organization that depends on volunteers and the generosity of the American public to perform its mission. For more information, please visit redcross.org or email cruzrojaamericana.org, or visit us on Twitter at @RedCross.
About The Salvation Army
The Salvation Army annually helps nearly 23 million Americans overcome poverty, addiction, and economic hardships through a range of social services. By providing food for the hungry, emergency relief for disaster survivors, rehabilitation for those suffering from drug and alcohol abuse, and clothing and shelter for people in need, The Salvation Army is doing the most good at 7,600 centers of operation around the country. In the first-ever listing of "America's Favorite Charities" by The Chronicle of Philanthropy, The Salvation Army ranked as the country's largest privately funded, direct-service nonprofit. For more information, visit SalvationArmyUSA.org. Follow us on Twitter: @SalvationArmyUS and #DoingTheMostGood
About Stack Sports
With nearly 50 million users in 35 countries, Stack Sports is a global technology leader in SaaS platform offerings for the sports industry. The company provides world-class software and services to support national governing bodies, youth sports associations, leagues, clubs, parents, coaches, and athletes. Some of the largest and most prominent sports organizations including the U.S. Soccer Federation, Little League Baseball and Softball, and Pop Warner Little Scholars rely on Stack Sports technology to run and manage their organizations. Stack Sports is headquartered in Dallas and is leading the industry one team at a time focusing on three key pillars -- Play, Improve, and Engage. To learn more about how Stack Sports is transforming the sports experience, please visit http://www.stacksports.com.