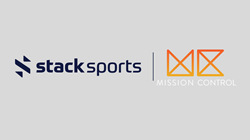 "Helping youth sports organizations adapt to the changing world has been a huge focus for us at Stack Sports, before and during the COVID-19 crisis."- Jeff Brunsberg, Stack Sports
PLANO, Texas (PRWEB) August 12, 2020
Highlights

• Partnership signals a commitment by both organizations to accelerate the growth of recreational esports in communities in the U.S.
• Stack Sports works with over 50 million people in 35+ countries
• Mission Control just announced a $1.75M Seed Round to further grow their platform and provide recreational esports to more communities
To accelerate the growth of recreational esports in the United States Stack Sports is working with Mission Control to help local groups organize. This Partnership will be the first step in a series of investments for Stack Sports in the esports space. The convergence of the largest provider of Youth Sports technology and esports will further strengthen the growth of esports while allowing existing organizations to find new ways to engage their membership.
"We could not be more excited to team up with stack sports and provide recreational esports for their clients and partners. Traditional sports organizers using esports to extend values of character and team building is an important step in achieving our mission of gathering and growing community. Aligning with the leading technology provider in recreational sports further validates the need and growth of recreational esports in the global/national community." Daniel Herz Chief Revenue Officer
Following new measures to contain the spread of COVID-19 more organizations are looking for ways to innovate and incorporate a remote offering to families. The casual social experience offered by Mission Control allows local recreational groups to form and run a league. During COVID-19, Mission Control has more than doubled its partner base providing an opportunity for communities to gather digitally through video games. Through the partnership with Stack Sports, teams can now benefit from the full suite of products offered plus the flexibility to engage online through the new Mission Control app.
"We believe this is a great first step in bringing esports to the larger Youth Sports market," said Jeff Brunsberg, Chief Revenue and Strategy Officer at Stack Sports. "Helping youth sports organizations adapt to the changing world has been a huge focus for us at Stack Sports, before and during the COVID-19 crisis. We believe Mission Control will be a great addition for organizations looking to create a fun and innovative way to engage their athletes."
Mission Control and Stack Sports are now launching new programs. For more information or to launch your first program check out, https://missioncontrol.gg/stacksports.
About Stack Sports
With nearly 50 million users in 35 countries, Stack Sports is a global technology leader in SaaS platform offerings for the sports industry. The company provides world-class software and services to support national governing bodies, youth sports associations, leagues, clubs, parents, coaches, and athletes. Some of the largest and most prominent sports organizations including the U.S. Soccer Federation, Little League Baseball and Softball, and Pop Warner Little Scholars rely on Stack Sports technology to run and manage their organizations. Stack Sports is headquartered in Dallas and is leading the industry one team at a time focusing on three key pillars -- Play, Improve, and Engage. To learn more about how Stack Sports is transforming the sports experience, please visit http://www.stacksports.com.
About Mission Control
St. Louis based Mission Control is a platform for recreational league esports, similar to a local adult softball league or college intramurals — but for video games. Mission Control manages the league schedule, validates scores, and determines the champion while also serving as a community forum for league members and friends. Gamers join Mission Control leagues (hosted by local and national organizations) for a casual, social experience doing something they love with their community. Organizations — whether a community center, college rec department, gaming hub, or other groups — can use Mission Control to gather a following, host leagues of various game titles, and manage their esports' operations.