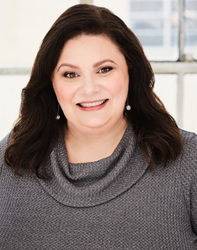 "We are extremely proud that Stacy has earned the CHID certificate," Faulkner adds. "This elite, industry-recognized credential underscores our firm's commitment to ensuring that our clients have access to the most qualified interior designers possible to Design Environments That Transform Life™."
DALLAS (PRWEB) May 26, 2020
Stacy Peters, Director of Design for Faulkner Design Group, recently passed the American Academy of Healthcare Interior Designers (AAHID) examination and earned the prestigious Certified Healthcare Interior Designer (CHID) certificate.
Passage of the examination and earning the CHID credential signifies that Peters has met the standards for education, experience, and examination and is a certified healthcare interior designer. The CHID examination is a rigorous assessment requiring examinees to demonstrate competence in a variety of aspects that affect the healthcare interior environment. The examination covers acute care, ambulatory care, and residential healthcare facilities.
"AAHID is the standard to identify those interior designers who are uniquely qualified to meet the needs and challenges of the healthcare interior design industry," explains AAHID President, Libby Laguta, CHID, EDAC, ACHE, of L2D Interior Design in Charleston, SC. "The CHID certificate is the highest appellation available for a healthcare interior design professional, and this credential is what every healthcare facility should look for when choosing an interior designer."
Peters graduated from Purdue University - West Lafayette, IN, with a Bachelor of Fine Arts with an emphasis on Interior Design and has worked in the interior design field for over 21 years. In her current position with Faulkner Design Group, Peters is responsible for client development and overall design quality of each senior living project.
Certified Healthcare Interior Designers are distinguished and qualified by education, examination, and work experience to practice healthcare interior design. The CHID appellation recognizes excellence, commitment and knowledge. It further distinguishes preeminent healthcare interior designers from other architects, designers, decorators, and interior designers. More information about the organization may be found at http://www.aahid.org.
About Faulkner Design Group
Faulkner Design Group is a fully integrated and highly awarded national interior architecture and design firm specializing in multifamily housing and senior living environments, completing over 75,000 units in more than 2,000 communities across 37 states, from Hawaii to New York, and even Canada, working with the largest developers, contractors, real estate investment groups, and management firms in the country for over 28 years. These communities are surpassing the industry standard for creativity and quality, earning a reputation as the most highly sought-after properties on the market. FDG offers comprehensive design services during the architectural development and construction planning phases of the projects, leading the industry with cutting-edge virtual tools and technology, approaching each design solution as a fingerprint in which no two are alike. For more information visit: http://www.faulknerdesign.com