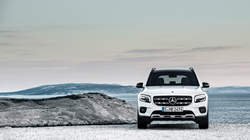 KANSAS CITY, Mo. (PRWEB) September 24, 2019
Creating vehicles in the luxury segment is a study in both creativity and restraint. On the one hand, designers and engineers in this segment are expected to produce compelling, cutting-edge technology and evocative design language that will lead automotive design everywhere.
On the other hand, these vehicles carry a tradition and a heritage. Outlandish and seemingly-inconsistent design or performance choices become friction points for drivers who desire luxury vehicles for their timeless qualities.
In that way, producing a brand-new vehicle is an opportunity for the creative minds at a luxury manufacturer to build something aspirational. The designers and engineers at Mercedes-Benz have seemingly done just that with the 2020 Mercedes-Benz GLB – a brand-new, upcoming SUV that, unbound by expectations, aims high.
The sales staff at Mercedes-Benz of Kansas City are anticipating a significant influx of drivers looking to learn more about the 2020 Mercedes-Benz GLB and make sure one is available once they arrive at the dealership.
To assist these drivers in both learning more about the style, technology and capability of the 2020 Mercedes-Benz GLB as well as helping them easily reserve the model, the staff at Mercedes-Benz of Kansas City have published a page to the dealership's website beckoning drivers to preorder the SUV.
On this page, interested SUV shoppers will learn about the engine powering the 2020 Mercedes-Benz GLB, the infotainment technology featured in the model and they'll be able to see photographs of the new SUV, which borrows design language from the flagship G-Class body-on-frame SUV.
Those seeking additional information are encouraged to contact the Mercedes-Benz of Kansas City sales team directly by calling 855-979-0605. Mercedes-Benz of Kansas City is located at 13851 Madison Ave. in Kansas City.