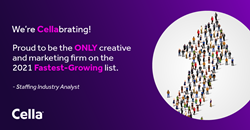 ROCKVILLE, Md. (PRWEB) November 02, 2021
Cella, a nationwide staffing, consulting and managed solutions firm, today announced that it has been recognized by Staffing Industry Analysts (SIA) in their 2021 list of the fastest-growing staffing companies in the United States. This marks the third consecutive year that Cella has earned a place on the Fastest-Growing US Staffing Firms list, and it is the only marketing and creative staffing firm to be included in 2021. The list ranks companies by compound annual growth rate (CAGR) for staffing revenue from 2016 through 2020, excluding acquisitions.
"Cella's mission is 'Putting Passion to Work®, and we are thrilled to once again be recognized for what we love to do — helping employers in an extremely competitive industry fill the demand for dream teams in the creative, marketing and digital spaces, and serving our exceptional pool of highly qualified talent," said Rob Ganjon, President, Cella. "We are honored to be ranked with this year's group of notable companies, and especially proud to be the only firm on the list laser focused on building creative talent."
To qualify for this year's list, companies needed to have had at least $1 million in staffing revenue in 2016 and at least 15% CAGR between 2016 and 2020. A total of 52 companies met these criteria, compared to 75 firms on last year's list, and the median CAGR was 26.1%.
In a press release announcing the awards, SIA President Barry Asin said, "Congratulations to all of the 2021 Fastest-Growing companies on their strong performances and organic growth in a time of transformation for a staffing industry undergoing rapid change. As we usher in new workforces, new business models, new technologies and new ways of working, these fastest-growing companies are well-poised to rise to the challenges and opportunities in a competitive talent marketplace."
About Cella
Cella is an award-winning leader in consulting, staffing and managed solutions for creative, marketing, digital and proposal development teams. We help people build meaningful careers and partner with companies to help them win. Our secret sauce? The Cella Trifecta: we have the right people, we understand our clients and we deliver results. Success requires a partner who offers all three. Together, we put passion to work. Cella is the only creative staffing firm to win the Best of Staffing® Client and Talent Awards for over a decade. For more information, please visit cellainc.com or contact info@cellainc.com.
About Staffing Industry Analysts
Founded in 1989, SIA is the global advisor on staffing and workforce solutions. Our proprietary research covers all categories of employed and non-employed work including temporary staffing, independent contracting and other types of contingent labor. SIA's independent and objective analysis provides insights into the services and suppliers operating in the workforce solutions ecosystem including staffing firms, managed service providers, recruitment process outsourcers, payrolling/compliance firms and talent acquisition technology specialists such as vendor management systems, online staffing platforms, crowdsourcing and online work services. We also provide training and accreditation with our unique Certified Contingent Workforce Professional (CCWP) program.