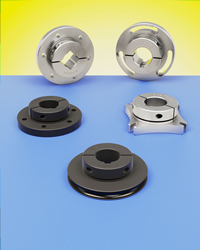 Supplied with various bore modifications and O.D. treatments, these modified standard parts cut costs by eliminating the need for custom ordering. They are ideal for food processing and packaing applications.
WILMINGTON, Mass. (PRWEB) January 11, 2022
Stafford Manufacturing Corp. has introduced a broad line of standard shaft collars and mounts that can be supplied with various bore and outside diameter modifications to cut costs by eliminating the need for custom ordering.
Stafford Shaft Collars include thousands of standard parts and most can be modified with hex, keyed, round, square, and threaded bores along with mounting holes, milled slots, O.D. flats, cam surfaces, knurls, notches, pulley grooves, and more. These parts come in a wide range of materials and sizes, and can be finished with several surface treatments.
Ideal for food processing and packaging applications, Stafford Shaft Collar standard parts come in USDA- and FDA-approved 303 or 316 stainless steel, Nylon, or Delrin® with 18-8 or SS fasteners, and in aluminum, steel, and various alloys. Bore sizes range from 1/8" to 6" I.D., depending upon material, and the Nylon and Delrin® collars come in 1" to 4" I.D. sizes.
Stafford Modified Shaft Collars can cut costs up to 50% and reduce delivery times considerably versus ordering special custom-made parts.
For more information contact:
Stafford Manufacturing Corp.
Shelley Doherty, Marketing Director
P.O. Box 277
North Reading, MA 01864-0277
(800) 695-5551 FAX (978) 657-4731
e-mail: sdoherty@staffordmfg.com
http://www.staffordmfg.com