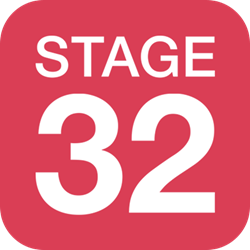 When I started Stage 32, it was with the goal of giving back to the creative community. We wanted to give more creators a voice and connect them with the executives who could help bring their ideas and talents to life.
LOS ANGELES (PRWEB) November 23, 2021
Richard "RB" Botto, CEO of Stage 32, the world's largest global social network and training platform for the entertainment industry, has been accepted onto the Fast Company Executive Board, an invitation-only professional organization of leaders who share a commitment to shaping the future of business.
Founded in 2021, the Fast Company Executive Board is a private, vetted professional organization that gives its members a unique, industry-leading peer group. Members are business leaders in the worlds of corporate leadership, design, media, entertainment, technology, social responsibility, marketing, advertising, social impact, and nonprofit who have been selected for their expertise and track record.
An award-winning producer, actor, and author, Botto was selected to join the Board based on his expertise and proven track record in entertainment and technology. From producing highly rated films like the Sundance award-winning feature, Another Happy Day, starring Ellen Barkin, Demi Moore, and Kate Bosworth, to writing and publishing his well-received industry best-seller Crowdsourcing For Filmmakers: Indie Film and the Power of the Crowd, Botto has a wealth of experience across many facets of the entertainment industry.
"I am honored to be appointed to the Fast Company Executive Board," said RB. "When I started Stage 32, it was with the goal of giving back to the creative community. We wanted to give more creators a voice and connect them with the executives who could help bring their ideas and talents to life. I am so proud of what the Stage 32 team has accomplished and the movement that it has started in the entertainment industry. We are so passionate about democratizing entertainment. The support we have received from the actors, writers, directors, animators, videographers, and executives who want to support something new and innovative has been so inspiring. I hope to bring a unique and creative eye to my role on the Fast Company Executive Board."
Stage 32 has united industry leaders across the globe by providing a space for new talent to be discovered, contributing to a bigger, more inclusive, and more democratized entertainment industry. The platform offers educational opportunities for its members, where they can learn from leaders in film, acting, producing, screenwriting, and more.
The Stage 32 networking platform serves as a marketplace connecting content creators with content producers and buyers and works directly with thousands of executives from companies like Netflix, Cannes, the American Film Market, HBOMax, Circle of Confusion, Searchlight Pictures, Universal Pictures, MGM, Paramount Plus, ViacomCBS, Sony Pictures Television, Verve, Gersh, WME, UTA, Good Fear, Zero Gravity, and more.
"We are pleased to accept Richard Botto into the Fast Company Executive Board," said Scott Gerber, founder of the Fast Company Executive Board, "When leaders gather in curated, private settings, they can collaborate and create new business opportunities across a broad range of industries. Botto brings valuable professional insights and accomplishments to this group."
As a Fast Company Executive Board member, Botto will be empowered to share his insights and perspectives across a number of Fast Company platforms. Botto's specific focus areas will be the intersection of entertainment and technology and the innovation, creativity, and world-changing ideas that are emerging as a result.
About STAGE 32
Stage 32 links entertainment industry creatives, professionals, and executives globally to connect and educate its members and serve as an incubator of talent and creative content. The platform is recognized throughout the industry as the leader in film, TV, and digital education, and it is the networking and education partner of organizations such as the American Film Market, the Cannes Film Festival Marche du Film, and many other festivals, film commissions, and film and television organizations around the world. In addition, industry professionals, production companies, and creatives use the platform's script services to vet projects, assist with developing and producing, and hone their material.
Founded in 2011 by Richard "RB" Botto, Stage 32 now boasts a community of over 800,000 creatives and executives across the globe. Stage 32 works with over 3,000 industry professionals and executives worldwide who provide education, instruction, and professional opportunities for members of the platform. Stage 32 currently has over 2,000 hours of exclusive film, television, and digital craft and business education, the most extensive library of its kind online. Members of the Stage 32 community use the platform daily to build their network; incubate projects; take online webinars, classes, and labs; find work; cast and crew their projects; and perform many other professional pursuits. Stage 32 members range from talent on the rise to Emmy, BAFTA, and Academy Award Winners.