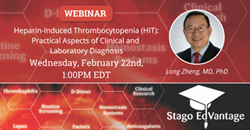 PARSIPPANY, N.J. (PRWEB) February 09, 2023
Stago to host their "Heparin-Induced Thrombocytopenia (HIT): Practical Aspects of Clinical and Laboratory Diagnosis" webinar on February 22nd, 2023, available any time after 1 pm Eastern Daylight time on the Labroots platform.
At Stago's Virtual Event, expect to learn about Heparin-Induced Thrombocytopenia (HIT), a life-threatening complication following heparin exposure. The event will dive into the pathogenesis, incidence, clinical and laboratory diagnosis, as well as management of HIT.
Join this Virtual Event to:

Describe the role of antibody against PF4/heparin complexes in pathogenesis of HIT
Learn the clinical and laboratory criteria for screening and diagnosis of HIT
Describe the advantages and potential pitfalls of various laboratory tests for diagnosis of HIT
Understand the diagnosis and management algorithm for HIT in routine practice
To register for the event, and view the agenda, click here.
About Stago
Diagnostica Stago, Inc., (DSI) is the exclusive provider of the Diagnostica Stago Hemostasis product lines in the United States and offers a complete system of coagulation instruments and optimized reagent kits for research as well as for routine analysis. Diagnostica Stago, Inc. is the U.S. subsidiary of Diagnostica Stago, S.A.S. France, a leader in the development and manufacture of Hemostasis products. For more information, visit http://www.Stago-us.com.
About Labroots
Labroots is the leading scientific social networking website, and primary source for scientific trending news and premier educational virtual events and webinars and more. Contributing to the advancement of science through content sharing capabilities, Labroots is a powerful advocate in amplifying global networks and communities. Founded in 2008, Labroots emphasizes digital innovation in scientific collaboration and learning. Offering more than articles and webcasts that go beyond the mundane and explore the latest discoveries in the world of science, Labroots users can stay atop their field by gaining continuing education credits from a wide range of topics through their participation in the webinars and virtual events. Now, Labroots offers more than ever with Chati, a flexible, highly scalable event platform that allows for the creation of unique, effective, and memorable virtual events.