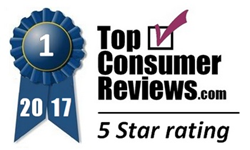 For all of these reasons, we're glad to give Bowflex our top ranking among sellers of Stair Climbers in 2017.
Overland Park (PRWEB) August 07, 2017
TopConsumerReviews.com recently awarded their highest five-star rating to Bowflex, a well-established retailer of Stair Climbers and other home fitness equipment.
One of the most familiar pieces of cardio equipment in a home gym or fitness center is the Stair Climber. Alternately known as a stair stepper, this machine helps people get a low-impact yet high-intensity workout using the same motions one would use when climbing a set of stairs. Users can increase or decrease the difficulty of their workout by increasing the speed of the stairs' rotation or by changing the resistance of the pedals, depending on the type of machine. As more fitness enthusiasts look for ways to vary their workouts, these Stair Climbers are increasing in popularity, particularly with those who choose to workout at home.
"Home fitness enthusiasts have long known that Bowflex delivers an excellent workout, and their Stair Climbers are no exception," explained Brian Dolezal, of TopConsumerReviews.com, LLC. "With three available models, customers can easily find a configuration that meets their workout goals. From Bluetooth connectivity with popular fitness apps to grips that track users' heart rates, the higher-end models of the Bowflex Stair Climbers are designed to impress. And, with available financing, free shipping and warranties ranging from one to three years, Bowflex goes the extra mile to keep their customers happy. For all of these reasons, we're glad to give Bowflex our top ranking among sellers of Stair Climbers in 2017."
To find out more about Bowflex and other retailers of Stair Climbers, including reviews and comparison rankings, please visit the Stair Climbers category of TopConsumerReviews.com at http://www.topconsumerreviews.com/stair-climbers/.
About Bowflex
Bowflex is a part of the Nautilus brand family. Headquartered in Vancouver, Wash., Nautilus, Inc. is a global fitness solutions company that believes everyone deserves a fit and healthy life. With a brand portfolio that also includes Nautilus, Octane Fitness, Schwinn and Universal, Nautilus, Inc. develops innovative products to support healthy living through direct and retail channels as well as in commercial channels with Octane Fitness products.
About TopConsumerReviews.com
TopConsumerReviews.com, LLC is a leading provider of independent reviews and rankings of hundreds of consumer products and services. From Stair Climbers to Treadmills and Home Gyms, TopConsumerReviews.com delivers in-depth product evaluations in order to make purchasing decisions easier.