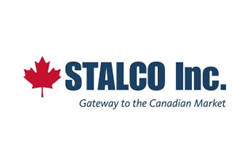 We are helping U.S. sellers save millions of dollars in duty costs that are typically considered an unavoidable cost of goods. - Steven Page
TORONTO (PRWEB) August 06, 2019
Stalco, a leading 3rd party logistics provider in Toronto, Ontario Canada, announced that it has launched a program that allows companies to eliminate their duty costs when selling goods directly to U.S. consumers. The launch of the program comes at a perfect time for online sellers gearing up for the upcoming holiday shopping season.
With this program, U.S. sellers have their inventory shipped from countries, such as China, directly to Stalco's distribution centre in Canada. Where applicable, duty is paid to Canada Customs (CBSA) on the cost of goods. Stalco then picks, packs and ships the client's U.S. consumer orders and automatically files for a refund with CBSA on the previously paid duty, on the seller's behalf. Consumer orders with a value less than US $800 do not attract duty on entry to the USA when imported under the Section 321 clearance type.
The key to the success of the program is Stalco's same-day fulfillment process and its proximity to the USA border (only 1.5 hours away). Stalco sends trucks to the USA on a daily basis and inducts packages with major carriers like USPS, DHL and UPS. This gives clients the same delivery services, costs, and transit times as a USA based fulfilment company.
"We provide a valuable logistics platform that goes beyond traditional fulfillment and shipping capability. We are helping U.S. sellers save millions of dollars in duty costs that are typically considered an unavoidable cost of goods," said Stalco's President, Steven Page.
In advance of enrolling a Client in the program, Stalco will validate that the client's products are eligible for Section 321 clearance. If applicable, Stalco will carry out the entire process on behalf of the client.
During the upcoming holiday season, when consumer purchasing is at its highest, Stalco's new program will help their clients eliminate duty costs on categories such as toys, watches, sunglasses, electronic devices and beauty products, to name a few.
For more information about Stalco and their duty drawback program, please visit https://www.stalco.ca/eliminate-duty-cost.
About Stalco
Since 1994, Stalco has been assisting U.S. companies with selling their products in Canada. As a Canadian owned and operated full-service 3rd party logistics company, Stalco takes care of everything including importation of inventory, storage, pick 'n pack fulfillment and shipping with discounted rates with all major carriers. In 2016, Stalco launched a USA shipping platform to offer its customers competitive shipping rates and fast delivery times to the USA. Operating in a Health Canada Site-Licensed facility, Stalco has the ability and infrastructure to fulfill health and beauty products including supplements and skin care products. Stalco also offers a unique on-demand service allowing clients to private-label, market and sell products in Stalco's line of over 40 supplements and skin care items. Variations of this model are also available to Stalco clients.