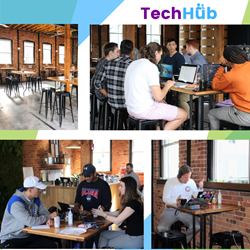 TechHub's success is indicative of Stamford's vibrant, growing technology ecosystem.
STAMFORD, Conn. (PRWEB) December 08, 2021
TechHub, a group of programs designed to accelerate the technology industry and build a tech-enabled workforce in Stamford, reports significant growth since its July 2021 launch by The Stamford Partnership. Participation in its weekly community co-working sessions is up approximately 200% and its fireside chat series launched with a sellout session with more than 100 attendees.
"TechHub's success is indicative of Stamford's vibrant, growing technology ecosystem," said Jon Winkel, CEO of The Stamford Partnership. "The companies and talent here are eager for opportunities to learn from and engage with one another. Our companies need local talent, and our community needs high-paying jobs and a pathway for everyone to access them. TechHub helps companies obtain the resources, skills and workforce they need to thrive in our tech-enabled world."
With respect to Stamford's growing number of data science startups, Wes Bemus, executive director of StamfordNext, a TechHub sponsor, said: "Starting a company can be isolating and stressful for the founder. Our hope with funding TechHub is that founders can feel they're part of a larger tech community here in Stamford. They can put their feet up, swap stories and ideas, and be a part of a group that supports them."
Also sponsored by UConn TIP Digital, Connecticut State Colleges & Universities (CSCU), and Third Place by Half Full Brewery (Third Place), TechHub offers the following programs:

Fireside Chat Series. These sessions, hosted by Third Place, feature enlightening discussions with leaders and innovators dedicated to growing the Stamford tech community. Most recently, Kevin Nolan, CEO of GE Appliances, was the guest of honor. He shared details of the company's upcoming return to Stamford with its CoCREATE initiative. The series' next guest speaker will be Stamford's new and first female mayor, Caroline Simmons, on Wednesday, Dec. 15, 2021, from 6 – 8 PM. She will discuss the future and growth of Stamford and its surrounding region.
Weekly Community Coworking Sessions. Third Place provides the Stamford tech community free co-working space on Thursdays from 9 AM to noon to share coffee, ideas, inspiration and knowledge. Data science startups from the UConn Stamford Technology Incubation Program (TIP Digital) can sign up to showcase their work during this time as well.
Weekly Wednesday Networking. Third Place welcomes the Stamford tech community to network and socialize on Wednesdays from 6-8 PM.
Virtual Events. To serve individuals of all comfort levels (with respect to COVID-19), TechHub continues to host periodic virtual events. It first featured NHL legend Mike Richter for a fireside chat with Octagon's head of innovation, Sebastian Oddo. And most recently, TechHub offered a Crowdfunding 101 webinar with WeFunder's vice president of fundraising, Jonny Price.
Data and Analytics Leaders Network. A group of executives, entrepreneurs and professionals who collaborate to share information and pursue large-scale investment in the computer and data science industries in Stamford.
Northeast Cyber Council (NECC). A virtual and physical resource hub for cybersecurity that offers events, networking, learning, and industry development opportunities for professionals and companies.
Regional Sector Partnership (RSP). A group of regional C-suite executives from data-dependent, tech-enabled firms like Deloitte, IBM, and JPMorgan Chase. They discuss, prioritize, and share insights related to their shared concerns and interests, especially with respect to economic, workforce, and community development.
TechFWD. A workforce development initiative to help individuals learn the digital skills needed to create or grow small businesses. Programs focus on marketing automation, web development, digital analytics, social media marketing and content marketing.
"The enthusiastic response we've received to TechHub has been incredible," said Bemus. "It affirms our belief that the future of Stamford lies in technology, particularly in data and analytics. Our talent, resources and energy in this area run deep and position us to be a hub for innovation in the U.S."
About The Stamford Partnership
The Stamford Partnership is a public-private partnership working to enhance the quality of life for those who live and work in Stamford, Conn. It is part convener, part think tank and part incubator. It brings together a wide spectrum of constituencies and stakeholders to identify needs, resources and opportunities to engage leadership and prompt action to improve Stamford's quality of life. It is a catalyst for debate and discussion, and initiates civic projects through public, community, and private sector collaborations.
About StamfordNext
StamfordNext is a non-profit collaborative that invests in the people, technology and sources of expertise in Stamford, Conn. To propel growth and enable innovation. It operates as a unique source of funding for organizations and entrepreneurs, connecting companies, universities and industry experts. An integral player in the local start-up ecosystem, StamfordNext funds projects that create meaningful change for entrepreneurs, allow for business independence, and include multiple market segments, focusing on data science.
About Third Place by Half Full Brewery
Third Place by Half Full Brewery is a dynamic mashup of a coffee shop, beer store, coworking space, tasting room and event space. Located at 575 Pacific Street in Stamford, Conn, Third Place is a fresh and ever-changing concept for the community, by the community.