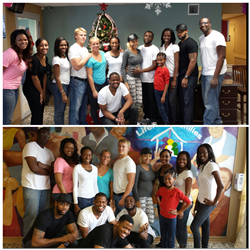 Giving back and making a difference
Miami, Florida (PRWEB) December 31, 2013
StampLabel, the clothing brand that gives 10 percent of the profits of each purchase to charity, visited LifeNet4Families on Christmas Eve. Along with several volunteers scouted by the company, everyone joined together to bring smiles and joy to all the needy families. Within three hours, StampLabel was able to provide over 250 families hot meals to eat and boxes of food for later.
LifeNet4Families is located in Fort Lauderdale, Florida were the homeless population is very high. The organization has been changing lives and making a difference for over 25 years. They are open 365 days a year and provide food along with other daily necessities to homeless and needy families in the community.
"We had an amazing time giving back and helping others," stated Jeremy Mathis, StampLabel's Co-Founder and Co-Chief Difference Maker. "Each month, we take company employees and volunteers to give back and feed the homeless. These soup kitchen visits are always humbling and life changing for everyone that participates. It was very exciting to see smiles on all the faces of the individuals receiving food."
In the past 12 months, StampLabel has helped provide food to more than 3,000 individuals. In addition, the company has taken more than 120 volunteers to the soup kitchen; helping to provide them with a new outlook on life. Jeremy states, "Our soup kitchen visits are life changing and we have big plans for 2014."
About StampLabel
StampLabel is a clothing brand that gives. Every month they release new apparel that aligns with their mission of inspiring positive living and incorporating giving into daily life. They sell Pocket Tees that are exclusive with fabrics that represent the world and its different cultures, and Graphic Tees with designs that represent Positive Chaos™. Positive Chaos is the fact that there is always positive in this chaotic world. Their mission is to make a difference in all communities, enrich the life of every individual, and through their efforts inspire others to be positive and incorporate giving into their everyday lives. StampLabel is Fashion with a Purpose because each month, they work with a different charity and donate 10% of the profits from every purchase. To learn more about StampLabel, visit the website at StampLabel.com.