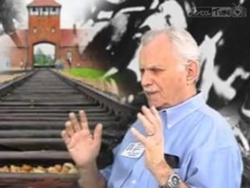 Unfortunately, the issues at the root of the Holocaust are alive and well today. If we fail to take a stand against injustice, any of us could end up as a target for persecution.
KINGWOOD, Texas (PRWEB) March 17, 2021
The rise of antisemitism is increasing as well as the ages of our Holocaust survivors. It is for this reason, that the Marches of Remembrance will be held in over 150 cities worldwide this year to give the public a rare chance to hear primary source testimonies from survivors before they are gone. There will be no "shutdown" this year for the Marches. These survivors' testimonies give us hope during our present world virus crisis. These survivors experienced the virus of antisemitism that murdered 6 million Jews.
Bill Orlin will speak in Houston at Kings Harbor and share his riveting account of how he was spared from the certain death of Hitler's Final Solution. Only seven years old when Nazi troops invaded his native Poland, he and his family watched as the Nazis destroyed their city and began their policies of persecution. His entire village was forced into a 50-mile march, suffering abusive humiliation along the way. His family eventually escaped from Europe, and Bill made a new life in the United States, serving in the army during the Korean War. His difficult childhood and journey to Houston taught him valuable life lessons.
Austin, Texas will have its first March of Remembrance as well on April 11, 2021 at 2pm. It will be held at the front gate of the state capitol. Simon Wellner, born in a DP camp after the war, (on Hitler's birthday) is inviting the public to join Austin's group of descendants of Holocaust survivors, the mayor of Austin, survivors and other leaders who will not be muzzled in their stance against rising antisemitism.
On April 11, from 2PM-4PM in Kingwood, the public is invited to remember the two thirds of European Jewry that were murdered and celebrate the lives of the one third of European Jewry who survived despite Hitler's plans to eradicate the Jews from Europe. The 1PM-2PM pre-event includes music by the Peitzman family, the Kingwood Middle School Acapella Choir, and dance featuring Dr. Rachel Towns of Care for Women in Kingwood. There will be more music and dance at the opening ceremonies and closing services along with a celebration of life at the finale. Holocaust survivors Bill Orlin and Ruth Seinfeld and their families will gather with local dignitaries and government leaders including Israeli Consul General to the Southwest Gilad Katz and Vice Consul Yuval Derry, Vice Consul Michael Ott (acting as Consul General of Germany), former US Congresswoman Debbie Riddle and Humble Mayor Merle Aaron., University and lead educators, students, liberator descendants, and community leaders such as Doug Stringer of Somebody Cares America will also be in attendance.
Pastoral host Frank Mazzapica of New Covenant Church in Humble, Texas is mobilizing his entire church to paint Upstander Stone Project rocks (which include names, ages and locations of death of children murdered in the Holocaust.) They will be bringing the stones to the march location, which will be their resting place at the Holocaust Garden of Hope.
Besides remembering and honoring those who perished in the Holocaust and those who survived, those who served as liberators and those who rescued members of the various groups targeted for persecution, March of Remembrance events educate the public regarding the perils of indifference, prejudice, and persecution of any people group. The March of Remembrance is an annual memorial walk that began in 2007 on Yom HaShoah (Day of Holocaust Remembrance.) The March serves to give survivors a voice, offer opportunity for reconciliation (between survivors and descendants of German Nazi perpetrators), and take a stand against modern-day antisemitism. We choose that day as a clear sign against antisemitism and as a powerful symbol of what happens when people remain silent about indifference and prejudice. The March of Remembrance is an American expression of the March of Life (Europe).
In the face of increased violent antisemitic incidents over the past year, it is vital that we take a stand against prejudice, persecution, and indifference against any people group. Unfortunately, the issues at the root of the Holocaust are alive and well today. If we fail to take a stand against injustice, any of us could end up as a target for persecution.
The Kingwood walk will be 8/10 of a mile and families, young and old alike, are invited, Registration and parking are free, as well as the pre-event from 1:00-2:00 pm filled with music, free t shirts and family friendly social distancing.
For more information:
2 1/2min. Kingwood, TX. video https://youtu.be/PuCWwBYbWzE
7 minute video on Holocaust history
https://youtu.be/uMbDu8P1skI
3 min video on how to host your own March;
https://marchoflife.org/about-us/organize-a-march-of-life/
Please visit:
our linked in page at https://www.linkedin.com/company/holocaust-remembrance-association
Texas website: HMarchTX.org
History of the March of Life:
The March of Life is an initiative by Jobst and Charlotte Bittner and TOS Ministries from Tübingen, Germany. Together with descendants of German Wehrmacht soldiers and members of the SS and police force, they have organized memorial and reconciliation marches at sites of the Holocaust all over Europe. Since the beginning of this movement in 2007, marches have been held in 20 nations and in more than 400 cities in cooperation with Christians from different churches and denominations, as well as from many Jewish communities.
Although the March of Life in each country has its own name and touch – "March of Remembrance" in the U.S., "Marcha de La Vida" in Latin America, and "Marsz Życia" in Poland – the message remains the same. It was the indifferent silence of the majority that made the Holocaust possible. An indifference that, even today, paves the way for antisemitism and xenophobia.
HOLOCAUST GARDEN OF HOPE UPSTANDER STONE PROJECT
One and a half million stones are being painted by volunteers from corporations, schools, clubs, churches, nursing home, etc. throughout Texas and beyond for the Holocaust Garden of Hope Upstander Stone Project. Each stone will bear the name of a child that was murdered during the Holocaust. The Holocaust Remembrance Association will provide a free bag with stones, paint, and the names of 20 children who were murdered during the Holocaust.
If you are interested in helping with the project, email Bethel Watt at UpstanderStones@HRA18.org to receive your bag of stones and names. Complete your project and bring your finished bag of stones to the March of Remembrance at the future home of the Holocaust Garden of Hope, where the stones will be placed inside of gabion walls. Visitors will be able to view the stones and begin to understand the huge number of innocent lives lost.
Thank you to our sponsors:

Holocaust Garden of Hope
Somebody Cares America, Doug Stringer
New Covenant Church, Pastor Frank Mazzapica
Remax Kingwood, Naomi Tonsul
The Ark Bakery & Café, Christine and Stephen Ege
The Nathaniel Center
City on the Hill
Senior Source Medicare Insurance, Mitch Jerome
Minuteman Press
Kingwood Family Dentistry, Dr. Mosby