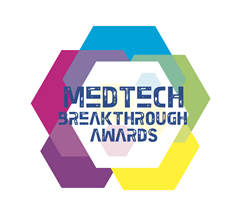 "We are thrilled to recognize the digital health and medical technology innovators tackling the world's most complex healthcare issues today, redefining the future of health delivery and creating a new breakthrough model of healthcare that's predictive, personalized and equitable"
LOS ANGELES (PRWEB) May 12, 2023
MedTech Breakthrough, an independent market intelligence organization that recognizes the top companies, technologies and products in the global health and medical technology market, today announced the winners of the organization's 7th annual awards program, showcasing technologies and companies that drive innovation and exemplify the best in digital health and medical technology solutions across the globe.
The mission of the MedTech Breakthrough Awards is to honor excellence and recognize the innovation, hard work and success in a range of health and medical technology categories, including Telehealth, Clinical Administration, Patient Engagement, Electronic Health Records (EHR), Connected Healthcare, Medical Devices, Medical Data and many more. This year's program attracted more than 4,000 nominations from over 17 different countries throughout the world.
"Technological advancements in the healthcare industry are creating an enormous opportunity to improve and transform healthcare delivery and access, deal more effectively with the changing patterns of demand, address a shrinking clinical workforce, reduce healthcare costs and advance public health as a whole," said James Johnson, managing director, MedTech Breakthrough. "We are thrilled to recognize the digital health and medical technology innovators tackling the world's most complex healthcare issues today, redefining the future of health delivery and creating a new breakthrough model of healthcare that's predictive, personalized and equitable. We extend our sincere congratulations to all of our 2023 MedTech Breakthrough Award winners."
All nominations were evaluated by an independent panel of experts within the digital health and medical technology industries, with the winning products and companies selected based on a variety of criteria, including most innovative and technologically advanced products and services.
The 2023 MedTech Breakthrough Award winners include:
Industry Leadership
Medical Device Engineering Breakthrough: Endologix, DETOUR™ System
Best Hospital Technology Implementation: Source LDPath at East Kent Hospitals University Foundation Trust
Best MedTech Startup: Intellihealth
Best MedTech Company CEO: Miruna Sasu, President and CEO, COTA, INC.
Best Overall MedTech Software: Veeva MedTech
Best Overall MedTech Company: Zelis
Digital Health Innovation Award: athenahealth, athenahealth Marketplace
Best Overall Digital Health Company: Welldoc
Clinical and Health Administration
Best Clinical Efficiency Solution: Regard
Best Core Administrative Processing System: HealthEdge
Best Online Search and Scheduling Solution: Kyruus, Kyruus ProviderMatch
Best Computerized Decision Support Solution: Elsevier ClinicalPath
Best Overall Health Informatics Solution: Vim
Best Overall Health Administration Software: Nym Health
Care Management & Delivery
Best Care Delivery Platform: Memora Health
Care Management Innovation Award: Outcomes4Me
Best Healthcare Navigation Solution: Quantum Health
Best Care Management Solution Provider: Bamboo Health
Patient Engagement
Best Overall Patient Engagement Platform: Virgin Pulse
Best Patient Relationship Management Solution: Thrive Health
Best Overall Patient Engagement Solution: CipherHealth
Best Patient Communication Solution: TeleVox
Best Patient Portal: Scout Clinical
Best Patient Education Solution: CooperSurgical and Ostro Health, Paragard
Best Mobile App for Patient Engagement: Orthofix, STIM onTrack
Patient Engagement Innovation Award: DUOS
Best Overall Patient Engagement Company: Gozio Health
Patient Experience
Patient Experience Innovation Award: Carium
Best Patient Experience Solution Provider: PatientIQ
Electronic Health Records
Best Electronic Health Record Solution: Experity
Best Overall EHR Solution Provider: CareCloud
Privacy & Compliance
Compliance Management Innovation Award: FSI Services
Best Compliance Management Solution Provider: Immuware
Genomics
Genomics Innovation Award: Genome Medical
Best Overall Genomics Solution: PacBio
Best Overall Genomics Company: 2bPrecise
Internet-of-Things (IoT) Healthcare
Best Healthcare Robotics Company: Noah Medical
Best IoT Healthcare Platform: Cigniti Technologies, Internet of Medical Things Digital Quality Engineering Automation Platform
Best IoT Healthcare Security Solution: Commure Inc., Commure Strongline
Best Biometric Sensor Solution: Sony mSafety
Best Use of Artificial Intelligence in Healthcare: Castle Biosciences, TissueCypher
Best Overall Connected Healthcare Solution: Validic
Data & Analytics
Best Healthcare Data Repository Solution: BridgeHead Software
Best Healthcare Big Data Platform: MDClone
Best Healthcare Big Data Solution: RethinkFirst
Best Provider Data Management Platform: symplr
Best Data Visualization Solution: Zus Health
Best Predictive Analytics Solution: WellSky
Best Overall Healthcare Data Analytics Platform: Panalgo, Instant Health Data (IHD)
Best Overall Medical Data Solution Provider: DrFirst
Healthcare Analytics Innovation Award: Canary Medical
Health and Fitness
Best Personal Health App: Qualitest
Best Sleep Monitoring Solution: Dawn House
Best Healthcare Information Destination: Alight Solutions
Telehealth
Best Overall Mobile Health Solution: DocGo and NYC Health + Hospitals
Best Overall Telemedicine Platform: Calibrate
Best Overall Telehealth Solution: Bright.md
Virtual Care
Best Virtual Care Platform: TimelyCare
Best Virtual Care Solution: Hicuity Health
Best Overall mHealth Hardware Solution: Zebra Technologies, Zebra ET4x-HC series rugged healthcare tablets
Best Virtual Care Solution Provider: Teladoc
Medical Device
Best New Technology Solution – Imaging: RapidAI
Best New Technology Solution – Ultrasound: GE HealthCare, Voluson™ Expert 22
Best New Technology Solution – Monitoring: Medtronic, AccuRhythm AI
Best New Technology Solution – Surgical: Asensus Surgical, Intelligent Surgical Unit™
Best New Technology Solution – Urology: Pathnostics, Guidance® UTI
Best New Technology Solution – Therapeutic: MedRhythms
Best New Technology Solution – Radiology: Philips, BlueSeal magnet
Best New Technology Solution – Biopsy: Body Vision Medical
Best New Technology Solution – Oncology: FUJIFILM Healthcare Americas Corporation, Fujifilm Synapse Pathology
Best New Technology Solution – Drug Development: IQVIA, IQVIA SmartSolve
Best New Technology Solution – Ophthalmology: NovaSight
Best New Technology Solution – Medication Management: Bluesight, CostCheck
Best New Technology Solution – Drug Delivery: Eitan Medical
Best New Technology Solution – Neurology: Zeto
Best New Technology Solution – Orthopedics: Zimmer Biomet, Identity™ Shoulder System
Medical Device Innovation Award: Abbott, AVEIR™ VR Leadless Pacemaker
Best Overall Medical Device Product: Thorne HealthTech, Thorne HealthTech OneDraw™ Blood Collection Device
Best Overall Medical Device Company: BioIntelliSense
Healthcare Cybersecurity
Best Healthcare Network Security Solution: Forescout
Best Patient Data Security Solution: LifeOmic
Best Overall Healthcare Cybersecurity Company: MedStack
Clinical Trial Technology
Clinical Trial Innovation Award: Greenphire
Best Overall Clinical Trial Platform: Science 37
Best Clinical Trial Technology Solution Provider: Medidata, a Dassault Systèmes company
Healthcare Payments & InsurTech
Best Healthcare InsurTech Solution: Gainwell Technologies
Healthcare Payments Innovation Award: Waystar
Best Healthcare InsurTech Solution Provider: MultiPlan
Women's Health
Women's Health Innovation Award: Fairtility
Best Overall Women's Health Solution: Wildflower Health
Home Health Care
Best In-Home Testing Solution: Healthy.io
Best In-Home Healthcare Platform: Honor Technology
Home Healthcare Innovation Award: LetsGetChecked
Mental Health
Best Overall Mental Health Solution: Woebot Health
Best Overall Mental Health Solution Provider: Big Health
####
About MedTech Breakthrough
Part of Tech Breakthrough, a leading market intelligence and recognition platform for global technology innovation and leadership, the MedTech Breakthrough Awards program is an independent program devoted to honoring excellence in medical and health related technology companies, products, services and people. The MedTech Breakthrough Awards provide a platform for public recognition around the achievements of breakthrough health and medical companies and products in categories that include Patient Engagement, mHealth, Health & Fitness, Clinical Administration, Healthcare IoT, Medical Data, Healthcare Cybersecurity and more. For more information visit MedTechBreakthrough.com.