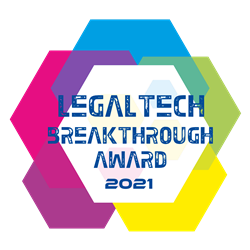 This year's nominees represent a new generation of innovators that is bringing a better understanding of the massive potential for growth and opportunity associated with the adoption of legal technology tools - Bryan Vaughn, Managing Director of LegalTech Breakthrough Awards
LOS ANGELES (PRWEB) November 17, 2021
LegalTech Breakthrough, a leading independent market intelligence organization that evaluates and recognizes standout legal technology companies, products and services around the globe, today announced the winners of their second annual LegalTech Breakthrough Awards program.
The mission of the annual LegalTech Breakthrough Awards program is to conduct the industry's most comprehensive analysis and evaluation of the top technology companies, solutions and products in the legal technology industry today. This year's program attracted more than 1,300 nominations from over 12 different countries throughout the world.
"As global spending on digital transformation technologies and services increases 17 percent through 2023, the legal workplace is a key sector that is transforming in this new digital era, powered by 'breakthrough' technology to accelerate the process of digitizing the traditionally conservative legal market.," said Bryan Vaughn, Managing Director of LegalTech Breakthrough Awards. "No matter the size of the firm or organization, legal tech is now a must-have, allowing companies to enhance accuracy, save time, improve bottom line and more importantly – better support their clients and customers. This year's nominees represent a new generation of innovators that is bringing a better understanding of the massive potential for growth and opportunity associated with the adoption of legal technology tools. We extend our sincere congratulations to all our 2021 LegalTech Breakthrough Award winners."
LegalTech Breakthrough Award winners were evaluated and judged by an independent panel of experts within the larger technology industry. They represent a mix of technical, business, academic and analytical expertise. The winning products and companies were selected based on a variety of criteria, including most innovative and technologically advanced products and services.
The 2021 LegalTech Breakthrough Award winners include:
Leadership
LegalTech Startup of the Year: Lexion
LegalTech CEO of the Year: Bobby Balachandran, Exterro
Overall LegalTech Company of the Year: Mitratech
Case Management
Case Management Solution of the Year for SMB Practices: Lolly Law
Overall Case Management Platform of the Year: LEAP
Overall Case Management Company of the Year: Filevine
Client Relations
Overall Client Relationship Management Company of the Year: Lawmatics
Data and Analytics
Predictive Analytics Solution of the Year: Casepoint
Overall Legal Analytics Solution of the Year: Bodhala
Overall LegalTech Data Solution of the Year: CaseMetrix
Overall LegalTech Data Solution Provider of the Year: UniCourt
Documentation
Notarization Tool of the Year: Notarize
Legal Education
Online Legal Education Platform of the Year: Evisort
Bots and Legal Assistants
Virtual Legal Assistant Solution of the Year: Vincent By vLex
Legal Research
Legal Research Innovation of the Year: Thomson Reuters
Spend Management
Legal Spend Management Innovation of the Year: Lawcadia
Contract Management
Contract Management Platform of the Year: Agiloft
Contract Management Innovation of the Year: Malbek
Contract Management Solution Provider of the Year: Brainbase
eDiscovery
eDiscovery Innovation of the Year: Onna
Marketplaces
Overall LegalTech Marketplace of the Year: LawVu
RegTech
Overall RegTech Solution of the Year: LexisNexis Regulatory Compliance
####
About LegalTech Breakthrough
Part of Tech Breakthrough, a leading market intelligence and recognition platform for global technology innovation and leadership, the LegalTech Breakthrough Awards program is devoted to honoring excellence in legal technologies, services, companies and products. The LegalTech Breakthrough Awards program provides a forum for public recognition around the achievements of LegalTech companies and solutions in categories including Case Management, Client Relations, Data and Analytics, Documentation, Legal Education, Practice Management, eDiscovery and more. For more information visit LegalTechBreakthrough.com