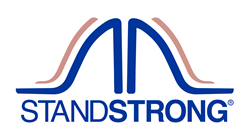 When I discovered StandStrong, game over. The immediate improvement in both my gait and my ability to stand for long periods of time was transformative. So much so, that I bought the company."
LOS ANGELES (PRWEB) January 28, 2022
During a time of the year when everyone tries to put their best foot forward, one e-commerce brand is helping women do exactly that. Female-owned StandStrong® is shaking up the orthotics marketplace with its innovative wearable foot supports designed to relieve pressure, improve alignment, and enhance balance for optimum comfort in any shoe.
Unlike conventional orthotics, StandStrong does more than just support the arch or cushion the foot. Rather than inserting a rigid device into a shoe, the flexible StandStrong mimics the foot's natural tissue and discreetly sticks to the soles of the feet encouraging proper alignment for all-day comfort. Made from a proprietary gel compound, StandStrong foot supports can be worn with any shoe style to accommodate a range of uses and activities – without the hassle of clumsy inserts or arch supports.
"As women, we can go from flip flops to athletic shoes to high heels in a single day," said Joanna Atencio, StandStrong President and CEO. "Plagued with a variety of foot problems for most of my life, orthotics neither gave me the functional benefits, nor the freedom and flexibility I needed. When I discovered StandStrong, game over," she added. "The immediate improvement in both my gait and my ability to stand for long periods of time was transformative. So much so, that I bought the company."
Clinically developed by podiatrist and foot surgeon Dr. Joseph Greg Stilwell to address his own CMT (Charcot-Marie-Tooth) symptoms, StandStrong is designed to reduce pressure off the center three slim metatarsal bones and, instead, transfer it to the larger first and fifth metatarsals which are designed to bear more weight. The balance rail equalizes the two vertical halves of the foot, increasing stability on the baby toe side while promoting mobility on the big toe side. The lower fin supports the cuboid bone, the keystone of the arch, to maximize overall stability, minimize pressure, and bolster proper foot alignment.
The brand's early adopters include high impact runners, stiletto-strutting fashionistas, as well as nurses, flight attendants, teachers, and other essential workers – all of whom have given StandStrong glowing reviews for increased comfort and stability along with maximum versatility. Moreover, the patent pending StandStrong Alignment Technology™ has shown to be effective at reducing or relieving pain from Plantar Fasciitis, hammer toes, bunions, and flat feet.
Currently available exclusively from the StandStrong website and backed by a 14-day money back guarantee, the StandStrong® Starter Kit comes complete with Small, Medium, or Large sized foot supports (fitting up to a US Women's Size 12), a proprietary StandClean® DailyWash & Deodorizer, a gentle cleansing sponge, storage insert, and branded storage travel pouch.