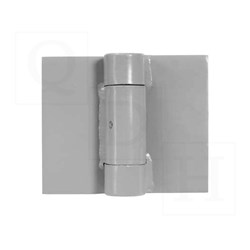 Without question, my choice would be Stanley Detention Hinges BB852 and BB855, by far they are our best sellers. -Kenneth Carnesi
West Babylon, NY (PRWEB) November 11, 2013
Kenneth Carnesi, Director of International Sales at Quality Door & Hardware, Inc., an industry leader in commercial door hardware for more than 25 years, was asked for his recommendation for a quality commercial heavy duty detention hinge. "Without question, my choice would be Stanley Detention Hinges Models BB852 and BB855, by far they are our best sellers" stated Mr. Carnesi.
"These heavy duty concealed ball bearing detention hinges are designed to withstand just about any pressure placed upon them. Each of these hinges is comprised of two concealed hardened steel races which contain 16 hardened steel balls sitting tightly within a jacket or sleeve. These concealed bearings are well lubricated insuring smooth, long lasting operation. These Stanley detention hinges have absolutely no holes and are not swaged," commented Mr. Carnesi.
The Stanley detention hinges are specifically designed for lead-lined doors, x-ray rooms or just about any door application that requires heavy duty commercial hinges due to weight requirements. These impressive Stanley detention hinges can carry weights of up to 800 lbs. and are quality built for long lasting and dependable application.
Quality Door & Hardware, Inc. has been a leader in the commercial door hardware industry for more than 25 years and has recently launched its newly designed e-commerce site at http://www.QualityDoor.com.
Mr Carnesi comments that "our new e-commerce site features a number of innovations designed to make our customer's online shopping experience safe, secure and productive. We feature a wide selection of products from among the most popular brands and manufacturers and always at everyday competitive prices. When you couple this with our unparalleled customer service; Quality Door & Hardware offers a package that is hard to match."
Come see for yourself "the difference that 'Quality' can make in your business".