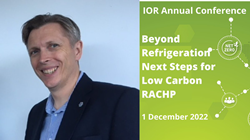 ''The cold chain sector has come a long way in cutting its energy consumption as the sector commits to Climate Change Agreement (CCA) goals, but it is clear that more action needs to be taken if the industry is to meet net zero objectives''
BIRMINGHAM, United Kingdom (PRWEB) November 22, 2022
Star Refrigeration's team members will take part in the Institute of Refrigeration (IOR) annual Conference 'Beyond Refrigeration 2022 – Next Steps for the Future of Low Carbon RACHP, which takes place on 1st December in Birmingham.
This year, Star will again sponsor the all-day, in person event, which will see Star Refrigeration's Group MD, Dr Andy Pearson, and Group Sales and Marketing Director, Dr Rob Lamb, present findings based on their respective papers, 'Benchmarking – lessons from cold store benchmarking' and 'A cold store upgrade project to meet net zero objectives'. Dr Dermot Cotter, MD of Star Technical Solutions, will also participate in a panel session,'Prioritising safety and mitigating risk', which looks at how to support a successful transition toward a sustainable future using low carbon emission refrigerants.
During the morning session, Dr Lamb will present his research findings and will discuss how data shows that new cold storage facilities can potentially make energy savings of up to 85% with the use of smart facility design, refrigeration equipment choice and operator performance. Though older sites face more challenges, he will detail how they too can make savings, highlighting a case study of a 50-year-old Scottish facility that made significant energy and safety improvements by installing modular low-charge ammonia chillers and freezers.
Dr Lamb said, "I am pleased to take part in the conference and demonstrate the benefits upgrading ageing temperature-controlled storage facilities with the right equipment and analysis software can have on energy consumption and carbon emissions.
"The cold chain sector has come a long way in cutting its energy consumption as the sector commits to Climate Change Agreement (CCA) goals, but it is clear that more action needs to be taken if the industry is to meet net zero objectives. The research paper on a case study at a Lineage facility will show large improvements to save energy and cut business's bills are within reach".
Following a short break, presentations will resume at 11.40am and Dr Pearson will take to the stage to shed light on the importance of benchmarking, monitoring and predicting annual cold storage energy consumption to ensure optimal operational efficiency as the sector gears up for carbon neutrality. His presentation aims to show owners and operators of cold chain facilities how to accurately measure and compare their facilities with similar national and European sites. The algorithms used can also predict future performance by collating energy data from the cold store and contrasting it with long, medium and short-term energy consumption forecasts.
Dr Pearson will demonstrate how the use of a new SEC (Specific Energy Consumption) metric – born out of years of research on the energy efficiency of temperature-controlled storage facilities- can help operators minimise energy consumption and reduce their carbon footprint. The SEC formula, which is based on kilowatt hours per cubic metre per annum, can be used to benchmark energy performance and predict future energy consumption.
Dr Pearson said, "Temperature compliance is an essential part of cold store operation but it is not enough on its own to ensure optimal business performance. Facilities need to measure performance in real-time to quickly identify and address inefficiencies in current operations and optimise energy consumption. By employing the SEC benchmarking calculator alongside the SEC prediction algorithm, owners and operators can boost the energy performance of a site and cut down on future usage."
After lunch, Dr Dermot Cotter, Prof Judith Evans LSBU, and Dr Daniel Colbourne will debate the importance of engineering standards and best practices and will examine whether there is currently a clash between low carbon refrigerants and safety. As part of the question and answer session which is scheduled to begin at 3pm, the panellists will talk about the risks of employing toxic, explosive and flammable low carbon solutions on a large scale and will evaluate the conflict between sustainable refrigerants and public and worker safety.
The IOR Annual Conference, which will examine how the cold chain is changing to meet net zero targets will bring together industry, end users and academia on 1st December 2022, at IET Austin Court, 80 Cambridge Street in Birmingham. The full conference programme with a complete list of scheduled events can be downloaded by visiting https://ior.org.uk/conference-programme-2022
For more information on event registration and ticket prices for members and non-members, visit https://ior.org.uk/NetZeroConference