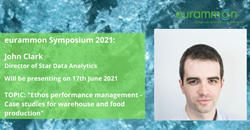 It is crucial we strive for net zero as soon as possible to prevent a climate catastrophe. The aim of the symposium is to have an open and honest discussion about what needs to happen, and the challenges and barriers we need to overcome
LONDON (PRWEB) June 09, 2021
The Eurammon Symposium, taking place 14-18 June 2021 has announced Star Refrigeration as one of its sponsors. This year's event is titled 'The natural path to net-zero' and following on from last year will take place as an online event.
As a global meeting platform for the refrigeration and heat pump industry, Eurammon addresses the cumulative demand for knowledge-sharing in the field of natural refrigerants to support refrigeration dependent business transition to net-zero emissions.
A look into the political and environmental agenda affecting the decarbonisation of the industry will set off the conference programme. During the course of the four consecutive days, the event will provide information on low carbon refrigeration technology and natural refrigerants across different areas, including supermarkets, cold storage, food and drinks manufacturing and district heating/cooling. In addition, industry challenges such as the lack of specialised skills needed for the systematic progressive adoption of natural refrigerants will be discussed during a training session on 16th June.
Spotlighting cold chain refrigeration equipment, including innovative technologies, life-cycle analysis of cool chain systems, energy efficiency and more, the conference will host an international audience of manufacturers, researchers, end-users and environmentalists. On the morning of Thursday June 17, Lamb will chair a two hour programme looking at initiatives within the temperature controlled warehousing sector that are reducing energy consumption and working towards net zero..
In addition to being a sponsor, Star will also host a presentation on its innovative data management software, Ethos. John Clark, Director of Star Data Analytics will be sharing case studies of the Ethos software on 17 June 2021 at 9:40am (CET) / 8,00 am UK time.
Ahead of the online lecture he said, "Minimising energy usage from refrigeration systems is a key action towards net zero. The presentation draws upon the experience of delivering a data driven performance optimisation service to both new and old refrigeration systems. It covers the journey: capturing the data, building the digital model, interpreting the results with support from a team of refrigeration analysts, conveying and managing the required corrective actions, and quantifying the benefit. Real life examples given on ammonia and carbon dioxide systems demonstrate the success but also the challenges and barriers".
With energy consumption levels in the refrigeration and air conditioning industry expecting to double by 2030, the Eurammon Symposium aims to support the sector's transition to net zero emissions. Eurammon has a central focus on natural refrigerants, so attendees can find out more about the natural refrigerants available on the market to limit the environmental impact of the cooling sector. From key note speeches to question and answer sessions, the digital symposium has a packed four day agenda, all of which is available free to registered users.
Last year the event attracted 500 participants including engineers, students, politicians and organisations. This year's event is set to be in demand, with a multitude of high-profile speakers on the agenda from business, science and political backgrounds.
Dr Rob Lamb, Star's Group Sales and Marketing Director said, "The RACHP industry is responsible for around 7% of total global emissions. With this in mind, it is crucial we strive for net zero as soon as possible to prevent a climate catastrophe. The aim of the symposium is to have an open and honest discussion about what needs to happen, and the challenges and barriers we need to overcome."
Founded in 1996, Eurammon's mission is to help spread awareness and acceptance of natural refrigerants. An association of companies, institutions and individuals, Eurammon advocates for the use of low carbon natural refrigerants by providing extensive information materials for the exchange of knowledge and maintaining a globally connected network.
The event will run for five consecutive days from 9:00 am to 11;30 am (CET) / 8:00 am to 10:30 am UK time. Those interested in attending can download the programme at https://www.eurammon.com/images/eurammon/attachments/eurammon_Symposium_2021_Programme.pdf and register at https://www.eurammon.com/images/eurammon/attachments/eurammon_Symposium_2021_Registration_Form.pdf
Participation is free of charge via MS Teams. Registered participants will receive a dial-in link shortly before the lectures.
To find out more about the Eurammon Symposium 2021 visit https://www.eurammon.com/news/symposium-2021